MP3 Listen -
To listen to the music download the midi file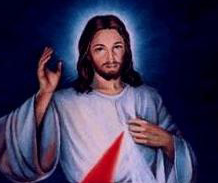 1
O take me to Thy Sacred Heart and seal the entrance o'er
That from that home my wayward soul, may never wander more.
O Jesus Heart meek, patient, kind, my soul to Thee I turn.
Thou wilt not crush the bruised reed, the sorrowing spirit spurn.

2
O Mary, by that priceless love, which Jesus heart bore Thee
Pray that my home in life and death that loving heart may be.
O Jesus open wide Thy heart, and let me rest therein,
For weary is my stricken soul, of sorrows and of sin.

3
I've sought for rest and found it not, of things of earthly mould,
One heart alone is worth my love, that heart that grows not cold.
Yes, Jesus take me to thyself, I'm weary waiting here.
I long to lean upon Thy Breast, to see and feel Thee near.
To DOWNLOAD the MIDI file,
click HERE
Download pdf score with chords