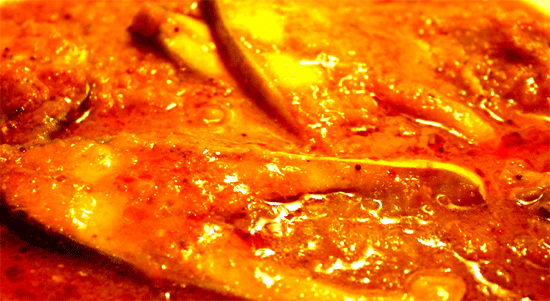 Ingredients
| Quantity | Measure | Ingredients | Description: |
| --- | --- | --- | --- |
| 1 | Large | Pompfret - Black (Halwa) | Clean, cut and wash |
| 1 | Large | Onion | For slicing |
| 4 | Flakes/Cloves | Garlic (Lason, Losun) | For slicing |
| 1 | Inch | Ginger (Adhrak) | For slicing |
| 2 | Medium | Chillies Green | For slicing |
| 2 | Medium | Tomatoes | For slicing |
| 1 | Teaspoon | Jeera (Cumin Seeds) | For powdering |
| 2 | Whole | Cardamoms (Elaichi) | For powdering (inside seeds) |
| 6 | Nos. | Cloves (Lavang) | For powdering |
| 1 | Tablespoon | Coriander(Dhania) | For powdering |
| 1 | Teaspoon | Mustard Seed (Sarson) | |
| 1 | Inch | Turmeric/Haldi | For powdering |
| 5 | Large | Chillies Red Dry | For powdering |
| 2 | Tablespoon | Ghee | |
| 2 | Tablespoon | Vinegar | |
| | As Required | Salt | to taste |
| | Few | Coriander Leaves (Kothmeer) | For slicing |
Method
# Clean, cut and wash the fish.
# Separately boil the fish in some water. And when done, remove from the stove and keep aside
# On a tawa roast the cumin seeds and other ingredients and powder them fine.
# Slice the green masala. Warm ghee in a vessel and fry green masala, when soft add powdered masala, vinegar and salt. Fry more till all masalas are blended.
# Add the fish, to the fried masala including the sliced masala. Add some of the water in which the fish was boiled sufficient for gravy.
# Simmer till fish has absorbed the masalas, on a slow fire.