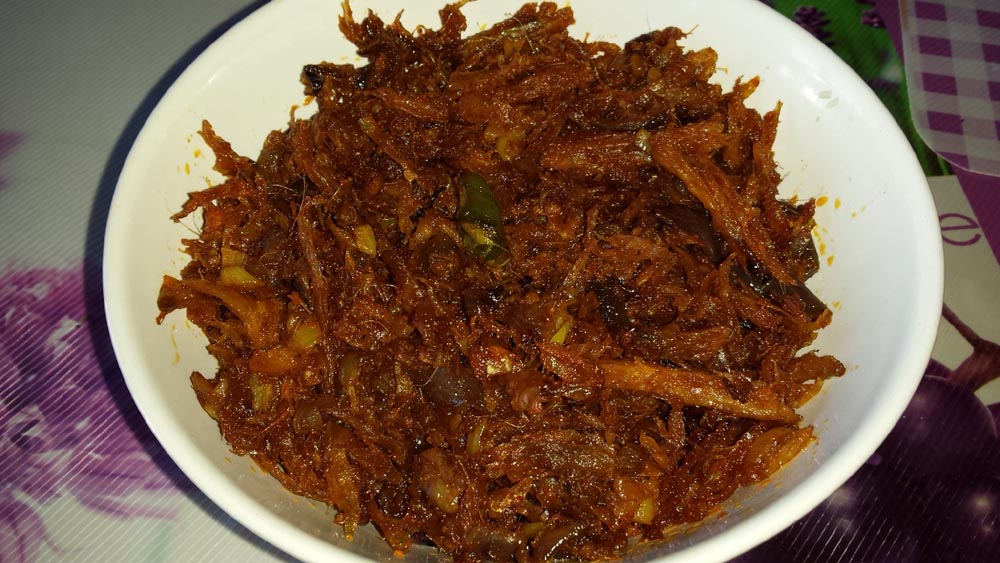 Ingredients
| Quantity: | Measure: | Ingredients: | Description: |
| --- | --- | --- | --- |
| 8 | units | Dried Bombil | Roast on hot tawa |
| 2 | Medium | Onions | Mince |
| 3 | Flakes/Seeds/Cloves | Garlic | Grind |
| Half | units | Coconut Copra | Grind |
| Half | Teaspoon | Turmeric Powder | Grind |
| 2 | Teaspoon | Chillies Red Dry | Grind |
| 1 | Tablespoon | Dalda (Vegetable Ghee) | Brown all |
Method
On a heated skillet, roast the dry bombils (a fish available in the coastal seas off Mumbai/Bombay), remove its bones, and make small bits of the fish.

Make mince of 2 onions.

Grind garlic and copra (sun dried cocoanut kernel), with the paste made of chilly and turmeric powders.

Mix masala and Bombay duck pieces and pound lightly. Brown the minced onions in a little oil or dalda and add all the ingredients till they are well browned.