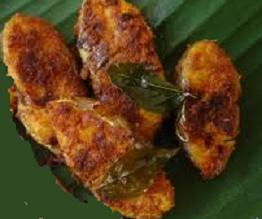 Ingredients
| Quantity: | Measure: | Ingredients: | Description: |
| --- | --- | --- | --- |
| 1 | Teaspoon | Mustard Oil | For coating paste |
| 1 | Tablespoon | Vinegar | For coating paste |
| 6 - 12 | Slices | Fish, general | 1 .Surmai, Bangda, Hisa, Rui etc |
| 1/2 | Teaspoon | Turmeric Powder | For coating |
| 1 | Tablespoon | Chilly Powder, Red | For coatin |
| | As Required | Mustard Oil | For frying |
| | As Required | Salt | For Coating Paste |
Method
If the fish has not been cut, wash it and remove the fins and entrails. Remove the scales, and cut it into slices. The Fish vendor can do it for you.

Make a paste of chilly powder, turmeric powder, mixed with vinegar, salt and a little mustard oil, and apply it to the fish slices, and keep aside for a while.

Heat suffiient cooking oil, in a flat frying pan, and when it is hot, slide the fish slices into the pan and fry. When one side is fried, turn it to the other side, and fry. When both sides are suffixiently fried and the slices are crisp, remove from the frying pan, drain the oil, and place it in a dish.