Ingredients
Whole wheat bread or brown bread - 10-15 slices
Cabbage - 1/2 cup (grated or chopped finely)
Carrot - 1/2 cup (chopped finely)
Onion - 1/2 cup (chopped finely)
Tomato - 1/2 cup (chopped finely)
Capsicum - 1/2 cup (chopped finely)
Semolina or sooji - 1/2 cup
Milk - 1/2 cup
Green chillies - 2 (chopped finely)
Black pepper powder - 1/2 teaspoon
Oregano - 1/2 teaspoon
Cheese - as per requirement
Butter
Salt to taste
Mint/pudina chutney - 1/2 cup
Method
Step 1
HOW TO MAKE PIZZA SANDWICH RECIPE Take semolina in a bowl. Add milk to it and soak for about 2 hours. Keep it aside
Step 2
In a mixing bowl, add cabbage, carrot, capsicum, onions and tomatoes and mix well. Add salt, pepper powder, oregano, green chillies and mix well. Now add soaked semolina and mix thoroughly. Set aside. (the consistency should not be very watery or thin consistency)
Step 3
For mint chutney, combine a few leaves of coriander and mint, 1 green chilly, 1/4 tsp of cumin seeds, 10-12 peanuts, 1 teaspoon of lemon juice and salt. Grind all to make a thick paste and mint chutney is ready
Step 4
Take one single piece of bread slice. Smear or apply mint chutney evenly on the bread. Then spread the vegetable mixture evenly on top of it.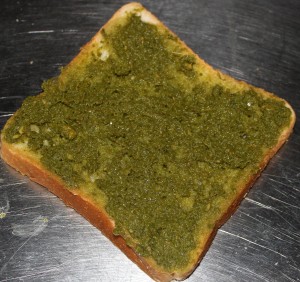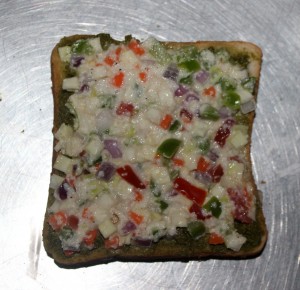 Step 5
Heat a non-stick pan on a medium flame. Place this bread slice with the mixture on the face of the pan. Smear butter on the top of the bread slice. Heat for upto 2 minutes on a low flame.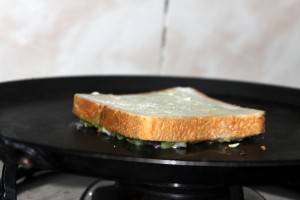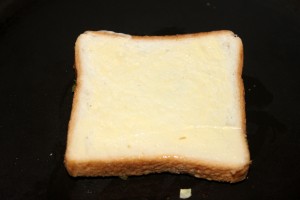 Step 6
After 2 minutes, flip on the other side and grate the cheese on the top of the bread. Heat on a low flame for another 1 minute till the base gets little crispier. Remove from the pan into a serving plate.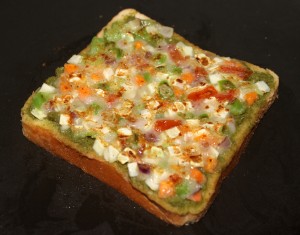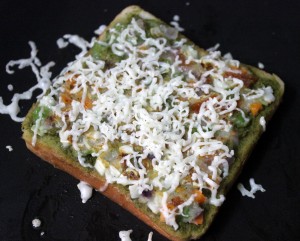 Step 7
Pizza sandwich is ready to be served. Cut it into equal pieces or diagonally and serve hot with tomato ketchup.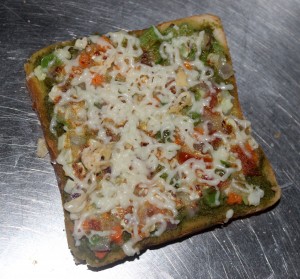 Step 8
NOTES : You can also use white bread, but brown bread is a healthier version of this sandwich.