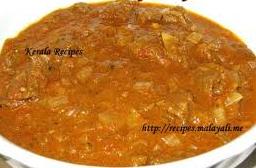 Ingredients
| Quantity: | Measure: | Ingredients: | Description: |
| --- | --- | --- | --- |
| 3 | Teacup | Water | For cooking beef |
| 500 | Grammes | Beef - Mince | Wash and boil |
| 2 | Teacup | Dhal, Masoor | Boil and add to meat. |
| 2 | Tablespoon | Cooking Oil | For seasoning |
| 0.5 | Nos | Onion | Make slices for seasoning. |
| 10 | Nos | Pepper Corns | broil on tawa and grind |
| 1 | Medium | Onion | Peel and slice broil on tawa and grind |
| 12 | Nos | Chillies Kashmir | Remove stems and broil on tawa and grind |
| 0.5 | Teaspoon | Jeera/Cumin Seeds | broil on tawa and grind |
| 1 | Tablespoon | Coriander/Dhania | broil on tawa and grind |
| 1 | Nos | Onion | broil on tawa and grind |
| 1 | Inch | Turmeric/Haldi | broil on tawa and grind |
| 1 | Teaspoon | Garam-Masala | To be added to masala |
| 0.5 | Teaspoon | Mustard Seed | broil on tawa and grind |
| 0.5 | Nos | Coconut scraped (fresh) | broil on tawa and grind |
| 5 | Medium | Chillies Green | Stems removed and grind |
| 3 | Flakes/Seeds/Cloves | Garlic | broil on tawa and grind |
| 1 | Ball | Tamarind | Remove seeds and fiber. and grind |
| 200 | Grammes | Potatoes | Boil, peel skin and make cubes. |
| A | Little | Salt | To taste |
Method
Cook half a kilogram of beef mince in a vessel, after frying the sliced onion in 3 teaspoons of ghee. Cover the vessel, and cook in its own gravy till the meat is cooked.
Then add 3 cups of boiling water and 2 cups Masoor dhal previously washed. When the meat and dhal are cooked well, add the curry masala, to be prepared as follows:

Broil separately on a cast iron skillet (thawa) each masala, scraped coconut and sliced onion except tamarind. Grind all the masala to a fine paste. Add this masala with a little water to the meat.

Heat the oil for seasoning, and fry half sliced onion. Pour the meat with its gravy into the seasoning and cook. Add boiled potatoes, peeled and diced in cubes.