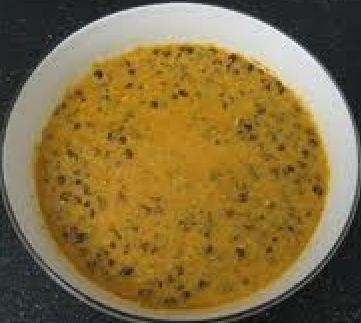 Ingredients
| Quantity: | Measure: | Ingredients: | Description: |
| --- | --- | --- | --- |
| 1 | Kilogram | Pork | Wash and cut |
| 1 | Medium | Mogen (spotted cucumber) | |
| 1 | Medium | Papaya | Green for cooking - |
| 200 | Grammes | Radish | |
| 10 | Medium | Chillies Red Dry | For grinding |
| 6 | Nos | Pepper Corns | For grinding |
| 1/2 | Teaspoon | Mustard Seed | For grinding |
| 1/2 | Teaspoon | Jeera/Cumin Seeds | For grinding |
| 1 | Tablespoon | Coriander/Dhania | For grinding |
| 1/2 | Inch | Turmeric/Haldi | For grinding |
| 1 | Large | Onion | For Slicing |
| 5 | Medium | Chillies Green | For Slicing |
| 6 | Flakes/Seeds/Cloves | Garlic | For Slicing |
| 1 | Inch | Ginger | For Slicing |
| 3 | Tablespoon | Ghee | for tempering |
| 1 | Medium | Onion | sliced, for tempering |
| 1 | Tablespoon | Vinegar | to taste |
| 1/2 | Teaspoon | Salt | to taste |
Method
Choose one of the three vegetables: Mogen, Papaya or Radish. In case of the first two, remove the skin and seeds. If you take radish, scrape the outer skin, and remove the stems and leaves. Cut these into medium cubes.
Cut the meat and cut into small pieces.
Prepare the ground masala, from the ingredients chosen for grinding, and the Minced Masala, from those ingredients, chosen for mincing.
If you want, you can take 1 cup of thick and 4 cups of thin juice of one coconut.
Mix the cut meat with the ground masala and the minced masala, and cook it in the thin juice till the meat is tender. Add salt and vinegar to taste. When the meat is almost cooked, add the vegetables and cook till they are done.

For tempering, slice one onion and fry it in ghee, and add it to the cooked meat. Just before putting the stove off, add the thick juice and simmer for a short while.