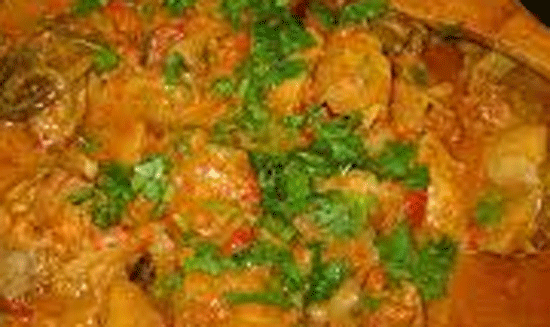 Ingredients
| Quantity: | Measure: | Ingredients: | Description: |
| --- | --- | --- | --- |
| 1.4 | Kilogram | Chicken | Fresh or Broiler. Cleaned and Cut |
| 5 | Flakes/Seeds/Cloves | Garlic | Clean the flakes. |
| Half | Inch | Ginger | Outer skin scarped |
| 10 | Medium | Chillies Green | Remove stems. |
| 1 | 200 g | Onion | Remove skin and make cubes |
| 2 | 200 g | Tomatoes | Cut in slices. |
| 3 | Nos | Cloves (spice) | To be added to meat |
| 1 | Bits | Cinnamon | To be added to meat |
| 1 | Nos | Coconut | To be ground into a paste. |
| 1 | Tablespoon | Lime Juice | |
| 2 | Salt-Spoon | Salt | to taste. |
| 2 | Tablespoon | Cooking Oil | To fry meat. |
| 1 | 200 g | Onion | For seasoning. |
| 1 | Bunch | Coriander Leaves (Kothmeer) | Cleaned and stems removed |
Method
1. Peel and slice the onion, cut the tomatoes into small pieces. Grind all the ingredients kept for grinding like, coconut, garlic, ginger, green chillies etc. Cut and clean the coriander leaves for garnishing.

2. Wash and cut the chicken in pieces.

3. In two tablespoons of cooking oil fry the chopped onions first and then the ground masala. Add a little water, a pinch of salt, the meat pieces, and cook on a slow fire. When half cooked, add the cloves, cinnamon, and the chopped tomatoes. When meat is tender and cooked, add one tablespoon of limejuice. Taste, and season if needed. Serve hot.