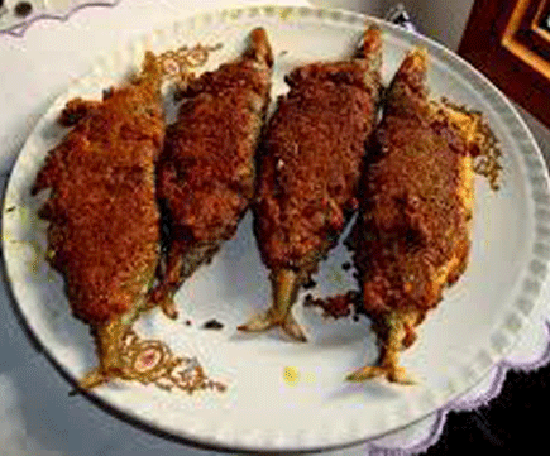 Ingredients
| Quantity: | Measure: | Ingredients: | Description: |
| --- | --- | --- | --- |
| 4 | Medium | Onions | Finely minced for Stuffing |
| 3 | Medium | Chillies Green | Finely minced for Stuffing |
| A | Few | Mint Leaves (Pudina) | Finely minced for Stuffing |
| 1 | Medium | Tomatoes | chopped |
| A | Few | Plums | Finely minced for Stuffing |
| Half | Teaspoon | Pepper Powder | For Stuffing |
| 2 | Tablespoon | Ghee | For Stuffing - frying |
| Half | Teaspoon | Garam-Masala | For Stuffing |
| A | Little | Salt | For Stuffing |
| 1 | Pinch | Salt | For Chilly Paste |
| 1 | Tablespoon | Chilly Powder, Red | For Chilly Paste |
| 1 | Teaspoon | Turmeric Powder | For Chilly Paste |
| 6 | Nos. | Mackerels | Or Pomfrets or Mullets |
| 4 | Tablespoon | Cooking Oil | For Frying the Fish |
Method
Prepare Stuffing:
Use the ingredients give above for stuffing, and prepare a stuffing.
Prepare Chilly Paste
In a little water, blend all the ingredients, shown above, for the chilly pastge..
Prepare the Fish.
Clean the fish, remove scales and fins, and slit the fish from head down the belly, and remove entrails and wash. Trim the head part and tail, as usual, and dry the fish with paper kitchen towels, and then apply the chilly paste, inside the stomach and outside the fish. Keep aside for one hour. Fill the stomach of the fish, with the onion stuffing, and tie the fish with thread, so that the filling does not come out.

Put sufficient oil in a frying pan and heat it till it is very hot, then lay the fish in it for frying. When one side is done, gently turn it to the other side and when both sides are properly fried, remove it on to a serving dish.

You can substitute the Pomphret with Mackerels or Mullet.