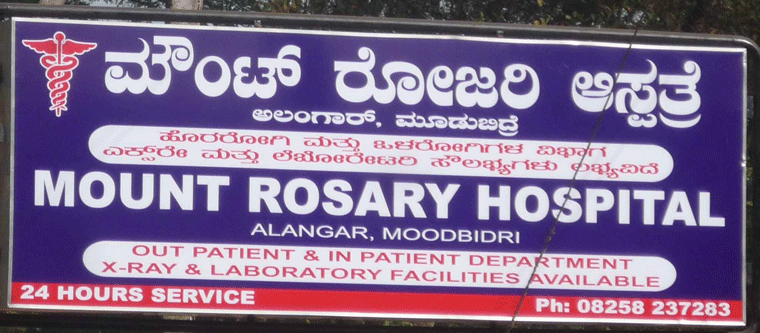 Formation of the Helpers of Mount Rosary Sisters,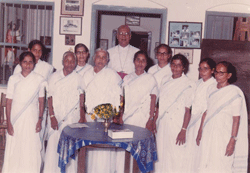 Helpers of Mount Rosary, study the World of God from the Bible very deeply, through Scripture classes, through reflection and meditation by learning and reciting the Office of the Church daily and through prayer sessions and sharing the Gospel through the seven step method. Having learnt the Word of God and understanding what the Lord wants, the Sisters participate in the daily Eucharist and strengthened by Holy Communion, they live according to the will of God, daily inspired by the meditation of the Word of God. This ensures the holiness and life of charity of our Sisters.
Presently there are 56 Professed Sisters
and 20 trainees. Beside this, there are nine students studying in High School and Pre- University who desire to be sisters in the future. The sisters daily pray for religious vocations, not so much for numbers but more of fervour.
In the year 2005, Helpers of Mount Rosary with the permission of the Holy see, it has become a Religious Congregation of the diocesan right.
The Present situation: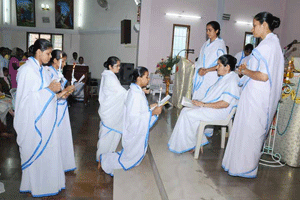 We are around 250 inmates and sisters at Mount Rosary , 200 are various inmates either living in the re-habilitation ward of Tuberculosis sanatorium, home for the aged people, or at the home for the destitute. The rest are sisters and trainees.
| | |
| --- | --- |
| | Ministerial Services. Like preparing for liturgy, the choir practices, |
| | |
| --- | --- |
| | praying the divine office, celebration of the Eucharist with the people, |
| | |
| --- | --- |
| | health services in the different wards, health camps, social works at meeting to plan village programmes, village women groups meetings, vanamahotsava day celebration, |
| | |
| --- | --- |
| | annual day celebration of all 56 women groups- called 'mahila dinacharane' |
| | |
| --- | --- |
| | Agriculture Service: paddy plantation, areca garden, coconut garden, rubber plants and rubber tapping, dairy programme, goat rearing, piggery, poultry programme etc.2 |
| | Animal Husbandry: We have a piggery and other resources: |
| | |
| | |
| --- | --- |
| | Pastoral services in the Parishes: sisters cathectis, (sisters go for Sunday pastoral service two two each, in the following parishes in the around moodbidri –Gantalkatte, sampige, Vamadapadav, Siddakatte, Alangar, Moodbidri town church, Nellikar, Narkre, Manela, Belvai, Paladka, Palke, etc. ); sisters do SCC (Small Christian Community) activity etc. |
Sisters assisting at the last rites and funeral
I hope these pictures will help you for the present.