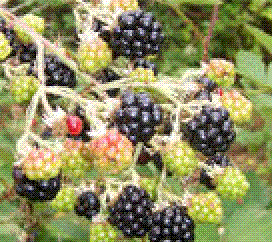 The blackberry is also the fruit of the blackberry plant. In proper botanical language, it is not a berry at all, but instead an aggregate fruit of numerous drupelets.
In the photo at the upper right, the early flowers have formed more drupelets than the later ones. This can be a symptom of exhausted reserves in the plant's roots, marginal pollinator populations, or where a small change in conditions, such as a rainy day or a day too hot for bees to work after early morning, can reduce the number of bee visits/pollen grains delivered to the flower, thus reducing the quality of the fruit. The drupelets only develop around ovules which are fertilized by the male gamete from a pollen grain.
Blackberry blossoms are good nectar producers, and large areas of wild blackberries will yield a medium to dark, fruity honey.