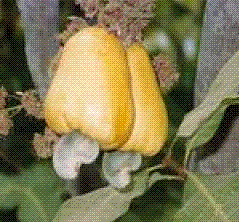 Kaju. The cashew grows as a C shaped, single hard protuberance beneath a fleshy apple like fruit. It has a creamy texture and a refined flavor. Cashewnuts are used in sweets and pulaos as a garnish and cashew paste is used to flavor and thicken curries.
http://en.wikipedia.org/wiki/Cashew_Nuts
The plant is native to northeastern Brazil, where it is called by its Portuguese name Caju (the fruit) or Cajueiro (the tree). It is now widely grown in tropical climates for its cashew "nuts" (see below) and cashew apples.
What appears to be the fruit of the cashew tree is an oval or pear-shaped accessory fruit or false fruit that develops from the receptacle of the cashew flower. Called the cashew apple, better known in Central America as "mara