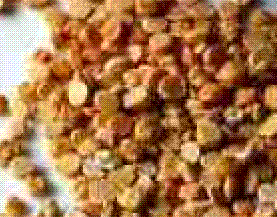 Skinless split chick peas.

food low in saturated fat, without any transfats, and packed with nutritious carbohydrates

A lot of people still think that it is plain table sugar that people with diabetes need to avoid. The experts used to say that, but the glycemic index shows that even complex carbohydrates, like baked potatoes, can be even worse.

A split and husked relative of chickpeas (Cicer grietinum), Bengalgram is the most popular legume in India. Chana dal is delicious, nutritious and easily digested, but, aside from its usage both in dal dishes and savories, the legumes are also roasted and powdered into chickpea flour (besan), another widely used ingredient in nearly every regional cuisine.