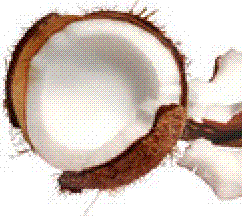 Narial. The l
arge brown nutshell containing white flesh and milk is an important ingredient in Indian cooking. Meat is used in both fresh and desiccated form or as Coconut milk extracted from the meat in fish, meat and vegetable dishes such as curries chutneys and sweets.


All parts of the coconut palm are useful, and the palms have a comparatively high yield (up to 75 fruits per year); it therefore has significant economic value. The name for the coconut palm in Sanskrit is kalpa vriksha, which translates as "the tree which provides all the necessities of life". In Malay, the coconut is known as pokok seribu guna, "the tree of a thousand uses". In the Philippines, the coconut is commonly given the title "Tree of Life".

Uses of the various parts of the palm include:

* The white, fleshy part of the seed is edible and used fresh or dried in cooking.
* The cavity is filled with "coconut water" which contains sugar, fibre, proteins, anti-oxidants, vitamins and minerals. Coconut water provides an isotonic electrolyte balance, and a highly nutritious food source. It is used as a refreshing drink throughout the humid tropics. Coconut water can also be used to make the gelatinous dessert nata de coco. Mature fruits have significantly less liquid than young immature coconuts; barring spoilage, coconut water is sterile until opened.
* Sport fruits are also harvested, primarily in the Philippines, where they are known as macapuno.
* Coconut milk is made by processing grated coconut with hot water or milk, which extracts the oil and aromatic compounds. It should not be confused with the coconut water discussed above, and has a fat content of approximately 17%. When refrigerated and left to set, coconut cream will rise to the top and separate out the milk.
* The leftover fibre from coconut milk production is used as livestock feed.
* The sap derived from incising the flower clusters of the coconut is fermented to produce palm wine, also known as "toddy" or, in the Philippines, tuba. The sap can also be reduced by boiling to create a sweet syrup or candy.
* Apical buds of adult plants are edible and are known as "palm-cabbage" (though harvest of this kills the palm).
* The interior of the growing tip may be harvested as heart-of-palm and is considered a rare delicacy. Harvesting this also kills the tree. Hearts of palm are often eaten in salads, sometimes called "millionaire's salad".
* Newly germinated coconuts contain an edible fluff of marshmallow-like consistency called coconut sprout, produced as the endosperm nourishes the developing embryo.