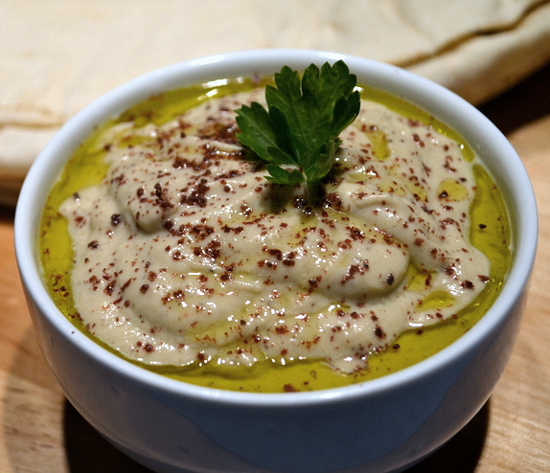 Ingredients
| Quantity: | Measure: | Ingredients: | Description: |
| --- | --- | --- | --- |
| 3 | Large | Brinjals - black shiny | Cook on flame or in oven |
| 3 | Tablespoon | Thahina | |
| 1 | Tablespoon | Olive Oil | |
| 2 | Tablespoon | Lime Juice | |
| 3 | Flakes/Seeds/Cloves | Garlic | smashed |
| 1 | Teaspoon | Salt | for taste |
| 3 | Medium | Chillies Green | Remove stem and crush int a paste |
Method
Make 2 or 3 slits in each brinjal and cook over charcoal, under a hot grill or in an oven until the skins are black and the flesh feels soft when poked with a finger. When cool enough to handle, peel the aubergines, scraping off and reserving any flesh that comes away with the skin. Put the flesh in a large bowl and mash with a fork.

Add the garlic and salt and continue to mash or pound the mixture until it is reduced to a pulp.
Add the tahina paste, lemon juice and chilli paste and stir thoroughly. Spoon the mixture on to a large plate, smooth it over with the back of a spoon and sprinkle with the cumin. Dribble the olive oil over the top and garnish with the chopped coriander leaves or parsley and black olives.