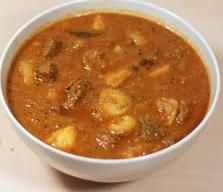 Ingredients
| Quantity: | Measure: | Ingredients: | Description: |
| --- | --- | --- | --- |
| 1/2 | Kilogram | Beef | Cut beef |
| 1 | Teaspoon | Vinegar | For grinding Masala |
| Half | Teaspoon | Kuskus - poppy seeds | Grind Masala |
| 2 | Nos | Chillies Red Dry | Grind Masala |
| 1 | Bits | Ginger | Grind Masala |
| 1 | Ball | Tamarind | Grind Masala |
| 1 | Bits | Turmeric/Haldi | Grind Masala |
| Half | Teaspoon | Jeera/Cumin Seeds | Grind Masala |
| 1 | Tablespoon | Coriander/Dhania | Grind Masala |
| 2 | Tablespoon | Cooking Oil | For frying |
| Half | Teaspoon | Mustard Seed | For seasoning |
| 1 | Medium | Onion | Mince |
| 1 | Inch | Ginger | Mince |
| 4 | Medium | Chillies Green | Mince |
| 4 | Flakes/Seeds/Cloves | Garlic | Mince |
| 1/2 | Nos | Coconut Copra | Cut in small cubes |
| 200 | Grammes | Potatoes | Pare and cut in cubes |
| 200 | Grammes | Tomatoes | Cut in cubes |
| 1 | Salt-Spoon | Salt | To Taste |
| 2 | Salt-Spoon | Sugar | To Taste |
Method
1)Cut beef into small cubes.
2)Grind the masala in vinegar and use it to marinate beef for 2 hours.
3)Put beef with the masala in a pressure cooker. Add 1 teacup water. Keep cooker on slow flame for 5-7 minutes, then into full flame. After 15-20 minutes put the stove off.
4)Chop coconut into small pieces.
5)Fry in the cooking oil the minced masala and then add the tomatoes and potatoes.
6)Put the cooked meat from the pressure cooker, into the fried mince masala with the coconut cubes and continue cooking. If the water is less, add sufficient hot water.
7) Let it simmer for a few minutes.
Add salt and vinegar to taste. If the pungency is too much, add a salt spoon of sugar according to your taste.