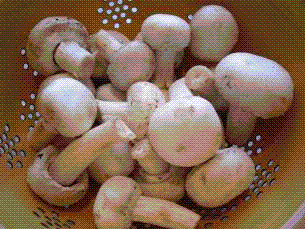 Fresh mushrooms are a pretty common vegetable, found loose or pre-packaged at the grocery store. There are quite a few varieties to choose from - Baby Bella or Button mushrooms are a good place to start, since they are hearty mushrooms that hold up well in stews or for making stuffed mushrooms
Mushrooms get all sweaty if you store them in a plastic bag or leave them in the pre-packaged container you bought them in. If you are not going to use the mushrooms immediately, they should be stored in the refrigerator in a paper bag. Alternatively, you could put them on a plate with a paper towel both under and on top of them. (The top one should be slightly damp.) They should be used within three days of purchase.
Some mushrooms are really dirty and some only have a small bit of dirt. The button mushrooms shown in the picture below are relatively clean. They only need a quick rub with a paper towel and they are ready to use.
The Baby Bellas on the other hand are really dirty so they need to go into a colander and get quickly rinsed under running water. Then, with a paper towel, you should wipe off any remaining dirt.
Some people say you should NEVER wash mushrooms as they act like little sponges and absorb too much water. However, as long as you DO NOT SOAK the mushrooms, cleaning them with water and then wiping them is faster and more efficient than wiping each one individually.
Some mushrooms can have very tough and