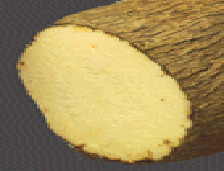 tuber - Grows below the ground. It causes itch, so it is cut carefully, and the outer skin is peeled and te tuber is then cut in slices or pieces for cooking.


It has a sweetish taste, and becomes soft as a potato.
The vegetable has a rough skin which is difficult to peel, but which softens after heating. The skins vary in color from dark brown to light pink. The majority of the vegetable is composed of a much softer substance known as the "meat". This substance ranges in color from white or yellow to purple or pink in ripe yams.
In India this vegetable is also called Garadu. In central part of India people cut small slices of the vegetable, deep fry them, sprinkle lots of spices on it and eat as snacks. In southern part of India, it is eaten with fish curry and is a local favorite. In Assam, it is known as Kosu (কচু) and is normally boiled and mashed and eaten with a sprinkle of salt.