Mangoes belong to the genus Mangifera, consisting of numerous species of tropical fruiting trees in the flowering plant family Anacardiaceae, of which Mangifera indica, or the common mango, is commonly cultivated and used for food. The mango is indigenous to India.[1] Cultivated in many tropical and subtropical regions and distributed widely in the world, mango is one of the most extensively exploited fruits for food, juice, flavor, fragrance and color.
In several cultures, its fruit and leaves are ritually used as floral decorations at weddings, public celebrations and religious ceremonies.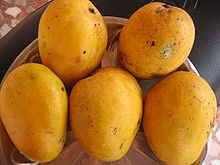 Cultivation and uses
Mangoes have been cultivated in the Indian subcontinent for thousands of years and reached East Asia between the 5th-4th century BC. By the 10th century AD, cultivation had begun in East Africa coming later to Brazil, West Indies and Mexico, where appropriate climate allows its growth. The 14th century Moroccan traveler, Ibn Battuta, reported it at Mogadishu
Mango is now cultivated in most frost-free tropical and warmer subtropical climates; nearly half of the world's mangoes are cultivated in India alone.
Other cultivators include North, South and Central America, the Caribbean, south, west and central Africa, Australia, China, Pakistan and Southeast Asia. Many of its 1,000+ cultivars are easily cultivated, ranging from the "turpentine mango" (named for its strong taste of turpentine, which according to the Oxford Companion to Food some varieties actually contain) to the huevos de toro ("eggs of the bull", a euphemism for "bull's testicles", referring to the shape and size).
Though India is the largest producer of mangoes, it accounts for less than one percent of the global mango trade, consuming most of its own output.[7]
Dwarf or semi-dwarf varieties serve as ornamental plants and can be grown in containers.
A wide variety of diseases can afflict mangoes; see List of mango diseases.
Food
Mango is generally sweet, although the taste and texture of the flesh varies across cultivars, some having a soft, pulpy texture similar to an over-ripe plum, while others flesh is firmer, like a cantaloupe or avocado. Some cultivars' flesh has a fibrous texture. Mango is consumed both as ripe fruit and as raw fruit (vegetable)[citation needed]. In raw and pickle forms, the mango skin is consumed comfortably, whereas in fruits, the skin gets thicker and bitter and is usually not eaten. The ripe mango is commonly eaten fresh.
[edit]
Indian and Pakistani Cuisine
Mangoes are widely used in Indian and Pakistani cuisine. Sour, unripe mangoes are used in chutneys, pickles, side dishes like meth-amba in Maharashtra and manga pachadi in Kerala. They are eaten raw with salt and chili. Raw mangoes are preserved in brine with dried red chilis, known as Achar in Hindi or "Ooragaaya" in Telugu or "Oorga" in Tamil and "Uppil Ittathu" in Malayalam literally meaning "Put in Salt". A cooling summer drink called panna or panha comes from mangoes.
Ripe mangoes are typically eaten fresh. Mango smoothie, made by adding mango pulp to a yoghurt drink, is a popular drink called lassi in India and Indian restaurants elsewhere. Ripe mangoes are also used to make curries like mambazha kaalan in Kerala. Aamras is a popular pulp/thick juice made of mangoes with sugar or milk and is consumed along with bread.
Mangoes are used in preserves like moramba, amchur (dried and powdered unripe mango) and pickles (commonly known as achaar). Different varieties of mango pickles are made in many regions of India, such as Avakaya Pachchadi of Andhra Pradesh, Vadu Maangaa pickle and Thokku Manga pickle from Tamil Nadu, miscut (pronounced mis-koot), a spicy mustard-oil pickle from Goa. Ripe mangoes are often cut into thin layers, desiccated, folded, and then cut. These bars, known as aampapdi,' amavat or halva in Hindi, are similar to dried guava fruit bars available in Colombia.
The fruit is also added to cereal products like muesli and oat granola.
[edit]
Other countries
In Australia, the mango is an introduced species.
In the Philippines, unripe mango is eaten with bagoong. Dried strips of sweet, ripe mango (sometimes combined with seedless tamarind to form Mangorind) are also popular, with those from Cebu exported worldwide. Mangoes are used to make juices, mango nectar, and as a flavoring and major ingredient in ice cream and sorbetes. Guimaras produces a delicious mango.
In Mexico, mango is used to make juices, smoothies, ice cream, fruit bars, raspados, aguas frescas, pies and sweet chili sauce, or mixed with chamoy, a sweet and spicy chili paste. It is popular on a stick dipped in hot chili powder and salt or also as a main ingredient in fresh fruit combinations. In Central America (Guatemala, El Salvador, Honduras, Nicaragua and Costa Rica), mango is either eaten green with salt, pepper and hot sauce, or ripe in various forms. Only in Costa Rica, ripe mangoes are called manga to differentiate them. In Guatemala, toasted and ground pumpkin seed (called Pepita) with lime and salt are the norm when eating green mangoes. In Colombia mango is also eaten either green with salt and/or lime, or ripe in various forms.
Pieces of mango can be mashed and used as a topping on ice cream or blended with milk and ice as milkshakes. In Thailand and other South East Asian countries, sweet glutinous rice is flavored with coconut then served with sliced mango as a dessert. In other parts of South-east Asia, mangoes are pickled with fish sauce and rice vinegar. In Indonesia and Thailand, green mango is sold by street vendors with sugar and salt and/or chili, or used in a sour salad called rujak or rojak in Indonesia and Singapore. Green mangoes can be used in mango salad with fish sauce and dried shrimps. In Taiwan, mango is a topping that can be added to shaved ice along with condensed milk.