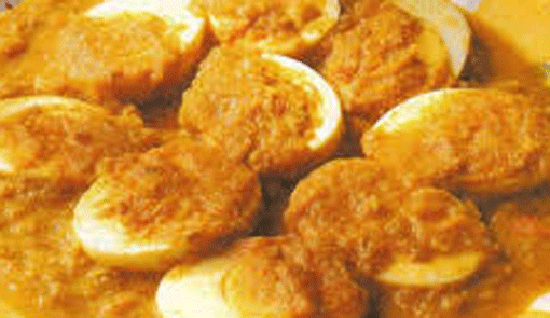 Ingredients
| Quantity: | Measure: | Ingredients: | Description: |
| --- | --- | --- | --- |
| 6 | Nos | Eggs | Hard Boil and cut in halves |
| 6 | Medium | Potatoes | Boil, peel and cut in halves |
| 2 | Nos | Onions | broil and grind |
| 3 | Flakes/Seeds/Cloves | Garlic | broil and grind |
| 1 | Teaspoon | Jeera/Cumin Seeds | broil and grind |
| 1 | Teaspoon | Kuskus - poppy seeds | broil and grind |
| 1 | Tablespoon | Coriander/Dhania | broil and grind |
| 1/2 | Teacup | Coconut Desiccated | broil and grind |
| 4 | Medium | Chillies Red Dry | broil and grind |
| A | Little | Turmeric Powder | add to masala |
| 1 | Ball | Tamarind | Grind with masala |
| 2 | Nos | Tomatoes | Cut in cubes and fry with masala |
| 2 | Tablespoon | Ghee | For tempering |
| 1 | Medium | Onion | sliced for tempering |
Method
# Boil the eggs and potatoes and cut them in halves.
# Broil the masala ingredients , scraped coconut, and one sliced onion and separately grind with tomatoes , coriander leaves, and tamarind into a fine paste.
# In a vessel, heat the ghee and fry one sliced onion and put masala and fry. When fried well, add its water.
# Add the potatoes and eggs and simmer till the masala is absorbed. Keep down, when done.