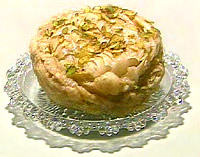 Ingredients
| Quantity: | Measure: | Ingredients: | Description: |
| --- | --- | --- | --- |
| 125 | Grams | Rava/Soji/"Semolina" | |
| 4 | Tablespoon | Butter | |
| 2 | Teaspoon | Corn Flour | |
| 2 | Tablespoon | Ghee | |
| 1 | Pinch | Salt | |
| | As Required | Ghee | for frying |
| 150 | Grams | Sugar, White | For sugar syrup |
| 4 | Teacup | Water | For sugar syrup |
Method
# Blend 4 tablespoons butter into 125 grams semolina. Add enough water to make a soft pliable dough. Cover with a moist clean cloth, cover with lid. Keep aside for four hours.

# Divide dough into small portions. Each portion should roll out thin chapatti of 10" diameter.

# Make a paste of corn flour and ghee. Apply thinly on each chapatti.

# Using a pizza cutter cut each chapatti into 1" wide strips. Roll each one tightly. Press between both palms gently. Roll lightly to flatten into concentric circles.

# Heat adequate amount of ghee in frying pan, dip in one at a time. With a ladle, keep pouring the ghee over khaja from sides.

# When puffed drain, keep aside on mesh.

# Make syrup of 2-1/2 thread consistency with sugar. Dip fried khaja into hot syrup, on both sides. Drain carefully and replace on a mesh till cool. Cool completely before storing in container.