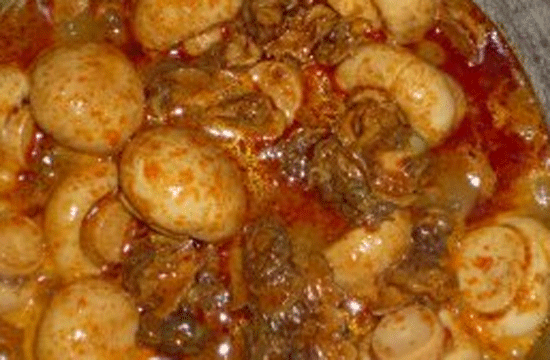 Ingredients
| Quantity | Measure | Ingredients | Description |
| --- | --- | --- | --- |
| 2 | Kilogram | Mussels | Kube, |
| 4 | Tablespoon | Cooking Oil | For frying and cookin |
| 1 | Teaspoon | Jeera (Cumin Seeds) | Fry in cooking oil |
| 1 | Medium | Onion | Finely chooped, and fried |
| 6 | Flakes/Cloves | Garlic (Lason, Losun) | Peeled, and slit lengthwise |
| 1 | Inch | Ginger (Adhrak) | Pared and chopped |
| 2 | Medium | Chillies Green | Stem removed, and chopped |
| 1 | Teaspoon | Turmeric Powder | Add to frying masala |
| 1-2 | Tablespoon | Chilly Powder, Red | Add to the frying masala |
| 1 | Whole | Coconut (Narial) | Ciut and scraped |
| 1 | Teaspoon | Salt | t taste |
Method
1. In a deep vessel, heat up the cooking oil and fry the cumin seeds.l till they begin t splutter - then add the finely chopped onions and fry till they get golden brown.

2. Prepare the garlic flakes, pared ginger, and add it to the frying masala.

3. Mix the chopped onions and fry them for a few minutes. Then, stir in the chopped green chillies and turmeric powder.

4. Add the freshly scraped Coconut flakes, and cook in 3 cups of water. Add salt totaste and cook for about 5 minutes.

5. Scrub and wash all the mussels, (Kube) still in their shells. In water, till you obtain a clea water, and add them to the vessel.

6. Gently stir in the mussels well and simmer for another 5 minutes or so, when all theshells should open up. Allow the flavor of the masala and coconut to enter the shells an blend with the same.

Remove from the stove, and allow it to remain in the heat of the cooking anabsorb all ingredients well.