Ingredients
| Quantity | Measure | Ingredients | Description: |
| --- | --- | --- | --- |
| 400 | Grams | Horse Gram (Kulith) | Pick, wash and soak |
| 2 | Large | Mogen (spotted cucumber) | Cut, remove pitch and seeds |
| 10 | Medium | Chillies Red Dry | For grinding |
| Half | Teaspoon | Mustard Seed (Sarson) | For grinding |
| 5 | Nos. | Pepper Corns | For grinding |
| 6 | Flakes/Cloves | Garlic (Lason, Losun) | For grinding |
| 1 | Piece | Turmeric/Haldi | For grinding |
| 1 | Ball | Tamarind | For grinding |
| 3 | Tablespoon | Cooking Oil | For Seasoning |
| 4 | Flakes/Cloves | Garlic (Lason, Losun) | For Seasoning |
| 1 | Teaspoon | Mustard Seed (Sarson) | For Seasoning. |
Method
Pick and wash the Kulit well and soak it over night. Next day, wash the Kulit well and pressure cook.. Cut the Mogen into 1" pieces, after removing the seeds Add Kulit to the Mogen and boil till soft. Add salt and the ground masala, and simmer..
Prepare seasoning, of oil, crushed garlic and mustard. Add it to the cooked stuff and simmer till the curry turns thick.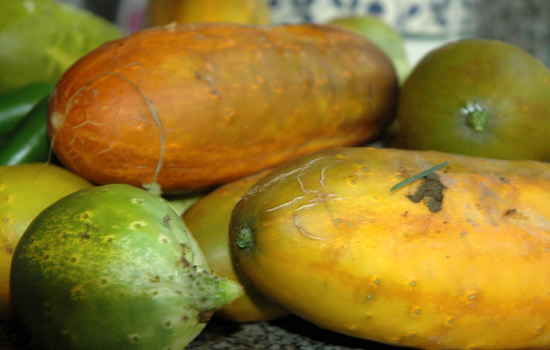 Mogen is a striped cocumber, with orange and black stripes, or plain orange as above. Its pulp is white.
Kulit is a pulse, called "Horse Gram".