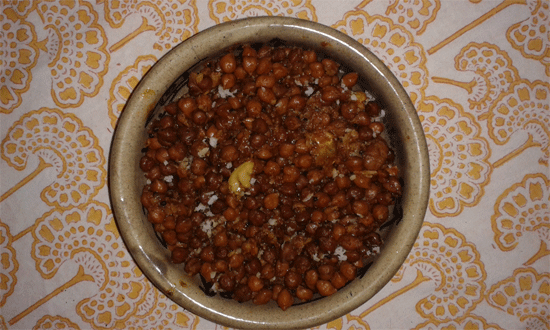 Ingredients
| Quantity | Measure | Ingredients | Description |
| --- | --- | --- | --- |
| 1 | Kilogram | Chana, whole. (Bengal gram) | Soak the Chana overnight |
| | As Required | Salt | to taste, add to boiing chana |
| 2 | Tablespoon | Chilly Powder, Red | add to boiling chana |
| 1 | Teaspoon | Turmeric Powder | add to boiling chana |
| 2 | Tablespoon | Cooking Oil | For seasoning |
| 1 | Tablespoon | Mustard Seed (Sarson) | Fry for seasoning |
| 12 | Flakes/Cloves | Garlic (Lason, Losun) | Crushed, for seasoning fry. |
| 3. | Ball | Jaggery | Add to cooked chana |
| 1 | Ball | Tamarind | Add to cooked chana |
| 2 | Teaspoon | Garam-Masala | Add to cooked chana |
| 1 | Nos. | Coconut (Narial) | Scraped |
Method
Soak Chana (Bengal gram, or Kabuli Chana) overnight.

Wash the Chana, boil with salt the same in a pressure cooker. The water should be sufficient to cook the Chana under pressure. Close the lid, and follow the instructions of the Pressure Cooker. When the steam comes out, put the "weight", and lower the flame, after the whistle has blown. Cook in the Pressure Cooker for ten minutes.

When the Chana has been cooked, prepare seasonin with mustard and garlic, and brown it well, and put it into the cooked Chana in the presssure cooker. Add garam masala, jaggery and tamarind to taste and let it simmer till it dries.

Garnish the Chana with scraped coconut and blend. Check the taste and adjust as needed..