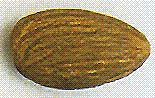 Badam. The fruit kernels of a peach like tree. Sweet almonds are used whole, ground, roasted or slivered in variety of dishes. In India they are used as a garnish for sweet dishes. In northern India and Cashmere almonds are used as an ingredient in the delicately spiced pulaos and curries.
The Almond (Prunus dulcis, syn. Prunus amygdalus, or Amygdalus communis) is a small deciduous tree belonging to the subfamily Prunoideae of the family Rosaceae; an almond is also the fruit of this tree. The plant is classified with the peach in the subgenus Amygdalus within Prunus, distinguished from the other subgenera by the corrugated seed shell.
The sweet fleshy outer covering of other members of Prunus, such as the plum and cherry, is replaced by a leathery coat called the hull, which contains inside a hard shell the edible kernel, commonly called a nut. In botanical parlance, the reticulated hard stony shell is called an endocarp, and the fruit, or exocarp, is a drupe, having a downy outer coat.
The tree is a native of southwest Asia. The domesticated form can ripen fruit as far north as the British Isles. It is a small tree, growing to 4-9 m tall. The leaves are lanceolate, 6-12 cm long, and serrated at the edges. The flowers are white or pale pink, 3-5 cm diameter with five petals, produced before the leaves in early spring.