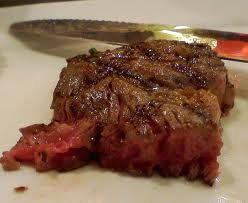 Ingredients
| Quantity: | Measure: | Ingredients: | Description: |
| --- | --- | --- | --- |
| 1 | Kilogram | Beef - Rump | Cut the meat |
| 2 | Teacup | Ghee | For frying |
| 1 | Teaspoon | Salt | Sprinkle |
| 1 | Teaspoon | Pepper Powder | Sprinkle |
| 0 | Few | Coriander Leaves (Kothmeer) | Mince |
| 1 | Inch | Ginger | Mince |
| 6 | Medium | Chillies Green | Mince |
| 2 | Nos | Onions | Mince |
| 2 | units | Eggs beaten | Beat eggs |
| 200 | Grammes | Potatoes | Boil, peel and mash |
| 1 | Bottle | Tomato Ketchup | For serving |
| 1 | Can | Green Peas | Boil and serve with seak |
Method
Cut the meat in quarter inch thick slices and wash. In a deep fry pan, boil some ghee, and fry the meat pieces on all sides. When fried, remove in a dish and sprinkle pepper and salt.

Mince the onions, green chillies, ginger and a few coriander leaves. Take a little hot ghee in a frying pan, and fry the minced ingredients till they turn brown.

Beat two eggs, and apply the beaten eggs on one side of the steak.

Boil 200 grammes of potatoes, peel them and mash them.

Place the minced masala layer on the coated side of the steak, and cover it with a layer of mashed potato. Again, apply the beaten egg to the potato layer.

When preparation is done, pour ghee in a deep fry pan, and boil it. Then place the steak pieces, with the stuffed side on top, and as it fries, pour the hot ghee on the top of the stuff in order to brown the stuffing. Serve with sauce and boiled green peas.