The Two Shall be One Flesh
MP3 Listen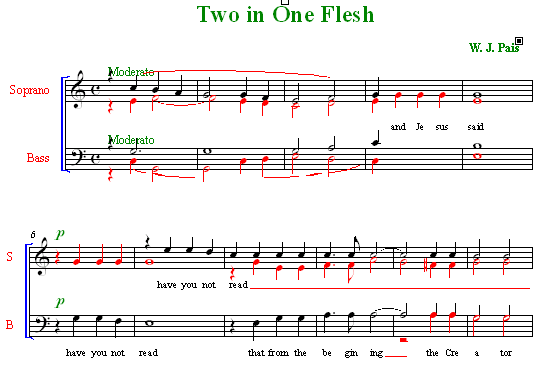 Section of the Score.

For Free Music Notation Software to read the file, go to http://www.finalemusic.com/notepad
Music composed by Walter J. Pais
for 4 unequal voices.
And Jesus said:
have you not read that from the beginning,
the Creator made them male and female -
and for this reason a man shall leave his father and mother
and be joined to his wife
and the two shall be one flesh
so that they are no longer two but one flesh.
Therefore what God has joined
let no human being must separate.
In case you wish to download the score,
you have to get a Finale notation software free from their website
http://www.finalemusic.com/notepad
Download the music Score by clicking on the Title and the file will open in your downloaded software.
To download the MIDI file you heard