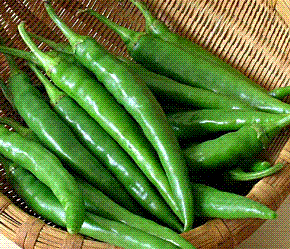 Green chillies are taken from the plant when they are still green. When they ripen, they become red.

The seeds cause the pungency, and the skin gives the colour.
Long, light green chillies are less pungent than short, small, dark green chillies, which are called 'jirgi mirsang' These are very pungent, and less quantity should be used. The inner seeds if removed, the pungency will be less, as the seeds contain the chemical which makes the chillies hot.
For More information on the subject click hre