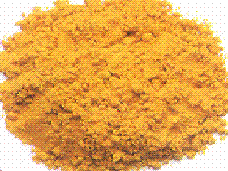 Haldi. Turmeric is one of
the oldest known Indian spices valued for its culinary as well as medicinal properties. It is the rhizome or underground stem of a small plant which is first boiled, dried and then ground into a fine powder ready for use. It imparts a characteristic yellow color and a flavor and is used mainly in savory dishes. It is also an important ingredient of Indian pickles.

Turmeric (Curcuma longa, also called tumeric or kunyit in some Asian countries[1]) is a spice commonly used in curries and other South Asian cuisine. Its active ingredient is curcumin. It is a significant ingredient in most commercial curry powders. Turmeric is also used to give a yellow color to some prepared mustards, canned chicken broth, and other foods (often as a much cheaper replacement for saffron). It makes a poor fabric dye as it is not very lightfast (the degree to which a dye resists fading due to light exposure).

Turmeric, a representative of plant genus Curcuma, is a member of the ginger family, Zingiberaceae.
Applying a mixture of one tablespoon of honey with 1 teaspoon of turmeric powder, to the back of the tongue, relieves cough. It has medicinal properties.
In medieval Europe, turmeric became known as Indian Saffron, since it was widely used as an alternative to the far more expensive saffron spice. Erode, a city in the south Indian state of Tamil Nadu, is the world's largest producer and most important trading center of turmeric in Asia. For these reasons, Erode in history is also known as "Yellow City" Sangli, a town in the southern part of the Indian western state of Maharashtra, is the second largest and most important trading center for turmeric in Asia.
Although most usage of Turmeric is in the form of powder from the roots, not merely for color but in case of Indian cuisine more for the medicinal value, in some regions (especially in Maharashtra) leaves of turmeric are used to wrap and cook food especially when on picnic in a field but really at homes as well. This obviously takes place around where turmeric grown, since the leaves are used freshly picked. This imparts a distinct flavor but has medicinal value as well.
In Ayurvedic practices, turmeric has many medicinal properties and many in South Asia use it as a readily available antiseptic for cuts, burns and bruises. It is also used as an antibacterial agent.
It is taken in some Asian countries as a dietary supplement, which allegedly helps with stomach problems and other ailments. It is popular as a tea in Okinawa, Japan. Pakistanis also use it as an anti-inflammatory agent, and remedy for gastrointestinal discomfort associated with irritable bowel syndrome, and other digestive disorders. In Afghanistan and northwest Pakistan, turmeric is applied to a piece of burnt cloth, and placed over a wound to cleanse and stimulate recovery. Indians, in addition to its Ayurvedic properties, use turmeric in a wide variety of skin creams that are also exported to neighboring countries. It is currently being investigated for possible benefits in Alzheimer's disease, cancer, arthritis, and other biological disorders .
In the latter half of the 20th century, curcumin was identified as responsible for most of the biological effects of turmeric. According to a 2005 article in the Wall Street Journal, research activity into curcumin is exploding. In that year supplement sales increased 35% from 2004, and the U.S. National Institutes of Health had four clinical trials underway to study curcumin treatment for pancreatic cancer, multiple myeloma, Alzheimer's, and colorectal cancer.The British Journal of Cancer reported a study that showed that curcumin can kill esophageal cancer cells in vitro. Curcumin also enhances the production of brain-derived neurotrophic factor, or BDNF, which supports nerve growth.
Turmeric has been identified as acting as an antivenin for King Cobra snake bites by Dr Eric Lattman of Aston University.