"It's my belief that the best way to become a good cook is to learn these basic cooking techniques."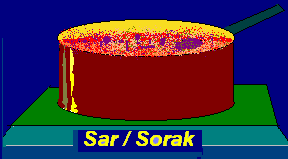 For more kitchen tips, click on Resources/Kitchen Tips
To view whole page, set the monitor screen to 1024x768 .
Once you learn how to handle these fundamental techniques, you will be able to handle most recipes. Cooking is not just about recipes....it is about how to take ingredients and make them taste as good as possible.

Recipes are great road maps to show us how someone else got there, but one of the joys of cooking is to find your own paths. Knowing these techniques is like taking the car out for a spin in a new location. You're not sure where you are going to end up, but getting there will be fun.
Have all your ingredients prepared and ready to go before you start cooking. It's kind of like when you go on a trip, first you make sure you have everything you need and are not forgetting anything.

If you are like many home cooks, you jump right into a recipe with little or no preparatory figuring if you can chop the garlic while the onions are sautéing. You get 4 steps into the recipe and find you needed to reduce some vinegar before adding it to the dish and now you are scurrying around trying to get it done before the onions and garlic overcook and your timing is completely thrown off.

I'm not sure why it is so difficult to get novice cooks to accept this idea but it's similar to asking someone to preheat their grill or sauté pan before starting to cook. How many of us just go out to the gas grill, turn it on for a couple of minutes, throw a chunk of meat on it and start grilling? It's the same with searing or sautéing on your stove top. Let those pans heat up some before you start cooking. If you are cooking with oil, it should just about be smoking before you add your main ingredients.

Now before you can even start preparing the ingredients for cooking, you want to make sure you have all the ingredients. How many have started a recipe only to find out that one or two of the key ingredients were missing.

Another good example of using this technique is when you stir-fry. Because everything gets cooked so quickly, you must have all your ingredients ready to go

If a certain ingredient is not available, see if you can find an alternative, which will give you the same result.
Kitchen
A kitchen may belong to the rich or the poor, depending on the person's income. The principles which govern all kitchens are of interest to all...

It is a part of every house, and should have adequate ventilation. There should be enough light in the working area. The washing basin, should have smooth running drains, and the exit point - the "nahni trap" should be easily accessible. It is advisable the flooring should be more functional than decorative. If something falls, it should be easy to clean it. The ingredients include acids and alkalis, thus consideration should be given in the choice of your flooring.

The work table should be close to the stove and the cooking table height should be comfortable to work on, when one is in the standing position. Thus, the stove should be placed where fumes can be easily expelled through the window. The kitchen table, should be below the kitchen cabinets, where the ingredients are stored. Keep your ingredients in an orderly way. Thus spices, cereals, etc. should be separately kept, so that they can be easily found by any new person who might be interested in cooking.
Remember what a mess it is if you mistake a salt jar, to a sugar one. You will get salty tea, and sugary curries !!