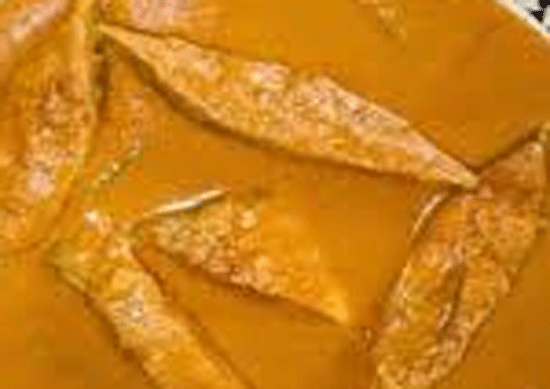 Ingredients
| Quantity | Measure | Ingredients | Description: |
| --- | --- | --- | --- |
| 1 | Nos. | Pompfret - White | Clean and Wash |
| 1.5 | Nos. | Coconuts - fresh. | Grind and extract juice |
| 4 | Flakes/Cloves | Garlic (Lason, Losun) | Grind |
| Half | Teaspoon | Turmeric Powder | small piece grind |
| 1 | Ball | Tamarind | Grind |
| 1 | Teaspoon | Jeera (Cumin Seeds) | Grind |
| 2 | Tablespoon | Coriander(Dhania) | Grind |
| 5 | Grams | Pepper Corns | 4 nos Grind |
| 20 | Grams | Chillies Red Dry | 10 nos Grind |
| 4 | Tablespoon | Cooking Oil | Heat in a vessel |
| Half | Nos. | Onion | Slice and fry |
| 2 | Salt-Spoon | Salt | add |
Method
Clean, cut and wash the fish. Take thick and thin juice, by grinding half a coconut, and take in this thin juice grind a whole coconut and other ingredients kept for grinding.

In a handi, put the cooking oil, and fry the sliced onions till they turn brown, then add the ground masala and fry it nicely stirring all the time. Wash the left over masala in the grinder, with four cups of water, and add it to the fried masala, and boil with a little salt to taste.

After boiling the masala gravy well, put the fish pieces for about fifteen minutes, or till the fish appears to be fully cooked. Lastly, before putting off the fire, add the thick juice, taste and add salt if required. Simmer for ten more minutes.

Rounse, Lady fish, mullets etc, can be cooked this way.