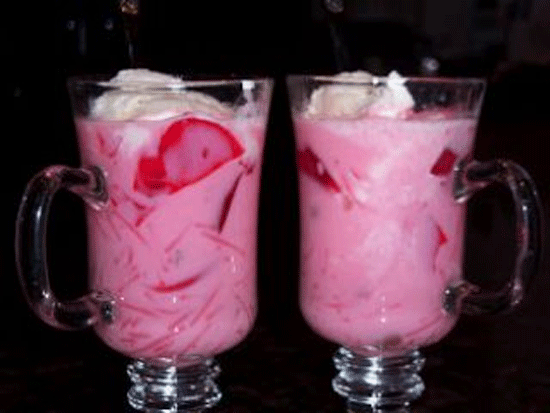 Ingredients
| Quantity: | Measure: | Ingredients: | Description: |
| --- | --- | --- | --- |
| 1 | Liter | Milk | Boil with sugar |
| 1 | Teacup | Corn Flour | To make corn pills |
| 1 | Teacup | Sugar | To be dissolved in milk |
| 1 | Teacup | Sabjan Seeds | Soaked in water |
| 1 | Teacup | Ruh Habza Syrup | To make the Falooda |
| 1 | Teaspoon | Vanilla Essence | To make the Falooda |
Method
Make a corn flour mixture in a little water, and add it to two cups of boiling water and cook till it reaches a thick consistency

Fill half a vessel with ice cold water and place a strainer with big holes and pour the hot corn flour mixture through it, into the cold water. Then remove these with a fine strainer, and collect the corn flour pills.

Boil one liter milk in a broad mouthed vessel with one cup of sugar in it . Then cool it. In the meantime, soak one cup of sabjan seeds - which are small black seeds that swell when soaked in the water - for two hours in a little water.

Put corn flour pills and the sabjan seeds in the milk, and add one teaspoon vanilla essence and one cup of ruh habza. Place this concoction in a vessel, and refrigerate it in the lower compartment of the refrigerator. It can be served with two or three spoons of ice cream when the liquid is quite cold.