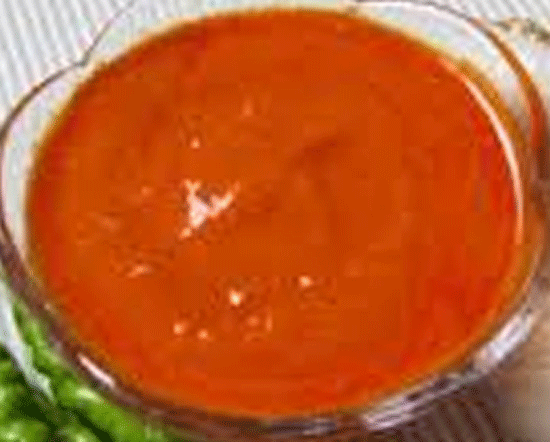 Ingredients
| | | | |
| --- | --- | --- | --- |
| Quantity | Measure | Ingredient | Description |
| 1 | Teacup | Coconut Copra | Desiccated and dry |
| 4 | Whole | Garlic Pods | with flakes/cloves. |
| | As Required | Chilly Powder, Red | To suit personal taste |
| 2 | Teaspoon | Teel. (Sesame Seeds) | White. |
| 1/2 | Teaspoon | Tamarind Pulp | |
| | As Required | Salt | to taste |
| | As Required | Sugar | to taste |
Method
1. Toast grated coconut over medium heat until light brown and crisp. Avoid burning.

2. Also toast sesame seeds until golden. Now grind sesame seeds and garlic cloves (peeled) together to form a coarse powder.

3. Mix the ground powder, coconut, chili powder, tamarind pulp, salt and sugar. Do not add water in it.

4. Crush the mixture using a mortar and pestle until all the ingredients are well blended. The mixture turns into a soft ball as coconut and sesame seeds release oil.

Garlic chutney is ready. Serve as an accompaniment with dal-rice or with any spicy snacks.
This chutney goes well with Maharashtrian bread bhakri or potato vadas.

Tips: You can add other ingredients such as cumin seeds, chana dal or dry roasted peanuts.
Garlic chutney can be made in a food processor. Yet, chutney made using a mortar and pestle is more flavorful.