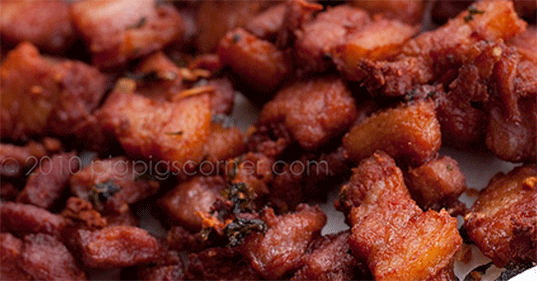 Ingredients
| Quantity: | Measure: | Ingredients: | Description: |
| --- | --- | --- | --- |
| Half | Kilogram | Pork | Wash and cut |
| 200 | Grammes | Potatoes | peeled and cut |
| 10 | Nos | Chillies Red Dry | grind all |
| 1 | Ball | Tamarind | grind all |
| 8 | Nos | Pepper Corns | grind all |
| Half | Inch | Turmeric/Haldi | grind all |
| 6 | Flakes/Seeds/Cloves | Garlic | grind all |
| 1 | Inch | Ginger | grind all |
| Half | Teaspoon | Jeera/Cumin Seeds | grind all |
| 1 | Medium | Onion | grind all |
| 4 | Nos | Cloves (spice) | grind all |
| 1 | Sticks | Cinnamon | grind all |
| 1 | Tablespoon | Ghee | For frying meat |
| 1 | Little | Salt | Add to fried meat |
Method
Wash and cut the meat.
Grind all the masala.
Put the meat in hot ghee.
Close the lid till is fried, add to this, the ground masala and salt to taste, stir occasionally. Simmer till the masala is sufficiently brown. Then pour 4 cups of boiling water and salt to taste. Cook till the meat is tender.

Add potatoes, peeled and cut previously. Simmer till potatoes are soft. If required add more boiling water when cooking.