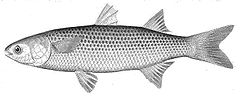 Ingredients
| Quantity | Measure | Ingredients | Description: |
| --- | --- | --- | --- |
| 1 | Nos. | Shevte (Mullets) | Large Mullet is called "Shevto" in Konkani |
| 1 | Nos. | Coconut (Narial) | |
| 10 | Nos. | Chillies Red Dry | |
| 1 | Inch | Turmeric/Haldi | |
| 1 | Tablespoon | Coriander(Dhania) | |
| 1 | Teaspoon | Jeera (Cumin Seeds) | |
| 1 | Pinch | Mustard Seed (Sarson) | |
| 4 | Tablespoon | Cooking Oil | |
| 4 | Nos. | Onions | |
| 1 | Inch | Ginger (Adhrak) | |
| 6 | Flakes/Cloves | Garlic (Lason, Losun) | |
| 6 | Medium | Chillies Green | |
| 2 | Tablespoon | Vinegar | |
| 2 | Salt-Spoon | Salt | |
Method
Clean, cut and wash the fish. Any other fleshy fish can be substituted.
Grind one coconut and extract thick and thin juice, and in the thin juice grind the red chillies, turmeric, jeera, mustard.
Slice the four onions, green chillies lengthwise, and the garlic flakes.
In a dekshi, heat the cooking oil and fry one sliced onions and brown it well. Then fry the ground masala, till well fried, and then put four cups of water, used to wash the grinder and boil with the other three sliced onions, the slit chillies and garlic, and cook till the ingredients turn tender.
Put the cut fish, and boil for fifteen minutes or less, if the fish has cooked, on slow fire, and lastly add the thick juice, and put the vinegar and salt to taste at the end.