Chilli Flakes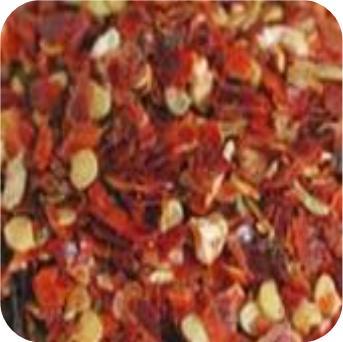 These are extra hot shredded chillies, they are crushed to make them ideal as a cooking ingredient or garnish. Great in a pepper grinder to spice things up with some heat
Crushed Chillies contain the flesh and seeds of whole chillies; if you want to add a warm, fiery punch to a dish, then look no further. Chilli peppers can really spice up a meal and are often used in Tex-Mex and Mexican meals. Crushed chillies are also used as a table condiment in many cultures to add heat.
Chilli pepper, the fruit of a hardy plant, has a special feature: the smaller it is, the hotter it tastes! Unlike other spices, often a small quantity is sufficient in a dish, with a single pinch adding a delicious spicy kick.
Traditionally used to help improve digestion, recent scientific studies suggest that chilli peppers may also have a favourable impact on energy metabolism and sensation of hunger
Making chilli flakes at home is an easy task. You can use chilli flakes as a sprinkler over the pizza, garlic bread and many other food items.
Remove the white part from the chilli and dry them in the sun for about 10 hours. Grind the dried chilli in your food processor and whirled them to make flakes. If you leave the inner seeds, the ingredient will be more pungent.