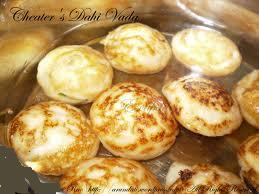 Ingredients
| Quantity | Measure | Ingredients | Description: |
| --- | --- | --- | --- |
| 1 | Teacup | Dhal, Urid (white) | Soak and grind. For batter |
| A | Little | Salt | Add and mix. |
| 2 | Teacup | Curds | Pour over vadas. |
| 1 | Pinch | Asafetida (Hing) | sprinkle |
| 1 | Teaspoon | Pepper Corns | and powdering, sprinkle over vadas |
| 1 | Teaspoon | Chillies Red Dry | and powdering, sprinkle over vadas |
| 1 | Teaspoon | Jeera (Cumin Seeds) | and powdering, sprinkle over vadas |
Method:
Soak the dhal for 4 to 5 hours and grind it to a fine paste with minimum of water. Beat the paste well, and add salt to taste. Take a spoonful of the urid dhal paste, and drop it in the boiling ghee in a deep frying pan, and fry. Remove in a perforated ladle, and soak in warm water, and when they swell, take them out of the water and squeeze between two spoons and keep aside. Beat the curds well and add salt. Pour the curds over the Vadas, spread out on a dish. Sprinkle powdered masala on top of these Vadas.

You can pour some tamarind sweet chutney on top of the Vedas, and also make some mint chutney or green coriander chutney and garnish with it.

The chutneys can also be served separately in small bowls, with the Vadas in a separate dish..