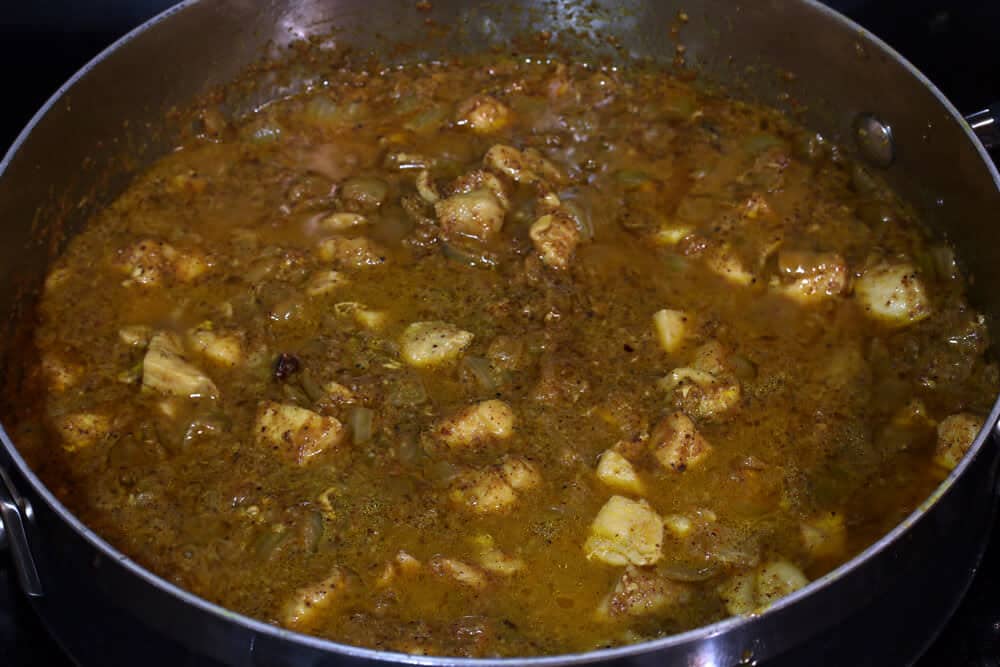 Ingredients
| Quantity | Measure | Ingredients | Description: |
| --- | --- | --- | --- |
| 1 | Large | Chicken | Clean, cut, and wash |
| 400 | Grams | Potatoes | Scrape, cut in cubes |
| 2 | Medium | Onions | Slice, to be fried |
| 1 | Teaspoon | Turmeric Powder | Add |
| 2 | Dessertspoon | Vinegar | Add |
| | Little | Coconut (Narial) | Cut in bits, add |
| | As Required | Salt | to taste |
| 6 | Medium | Chillies Red Dry | For Ground Masala |
| 1 | Teaspoon | Pepper Corns | For Ground Masala |
| 1 | Piece | Cinnamon (Dalchini) | For Ground Masala |
| | Little | Nutmeg (Jaiphal) | For Ground Masala |
| 5 | Grams | Cardamoms (Elaichi) | For Ground Masala |
| 10 | Grams | Cloves (Lavang) | For Ground Masala |
| 1 | Dessertspoon | Kuskus - poppy seeds | For Ground Masala |
| 1 | Dessertspoon | Coriander(Dhania) | For Ground Masala |
Method
Clean, cut, and wash to chicken. Roast all the masala ingredients kept for ground masala, and grind them in water.

Warm ghee in a vessel, and fry the sliced onions. When browned, add the meat pieces, and fry and cook it in its own gravy. If required, add sufficient hot water. Add the ground masala when the meat is cooked and is dry. Stir, and fry well. Then add turmeric powder, vinegar, and masala water, got from washing the mixer in which the masala was ground.

Add salt to taste. Scrape the potatoes, and cut them in cubes, and add to the curry. Cut the coconut kernel in small bits and add.

Add more water as required, and simmer for 20 minutes on slow fire.