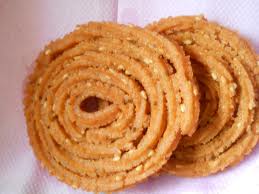 Ingredients
Quantity
Measure Number
Ingredients Number
<th "="" bgcolor="#ffffff"> Description:
1/2
Kilogram
Flour, Rice
Raw Rice Flour (Surai Tandool)
2
Tablespoon
Dhal, Urid (white)
Ground Fine
1/2
Kilogram
Flour, Gram /Chana Ata
To make dough
1
Tablespoon
Jeera (Cumin Seeds)
Add to the dough
1
Tablespoon
Teel. (Sesame Seeds)
Add to the dough
1
Teaspoon
Chilly Powder, Red
Add to the dough
1
Teaspoon
Pepper Powder
Add to the dough
As Required
Salt
to taste
Method
1. Mix the rice flour, gram flour and the ground urid dhal with a little salt water and make a stiff dough. Add rest of the ingredients to the dough and keep for a while..

2. Put a little dough in the chakuli form, and press, to form circular form of 4 to 5 rounds. The rounds should be touching one another.

3. Deep fry in boiling cooking oil or ghee. Strain with a perforated ladle and keep on a flat container, lined with absorbent kitchen towels.