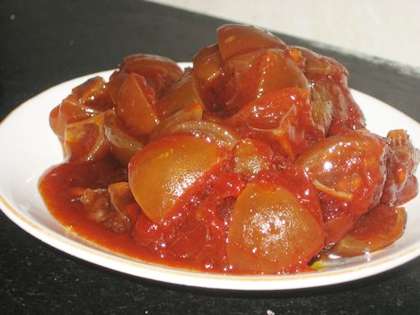 Ingredients
| Quantity: | Measure: | Ingredients: | Description: |
| --- | --- | --- | --- |
| 25 | units | Lime (fresh) | Yellow Lemons |
| 1 | Teacup | Vinegar | For grinding masala |
| 2 | Teaspoon | Jeera/Cumin Seeds | Grind Masala |
| 0.5 | Teaspoon | Methi - Fenugreek | roasted - Grind Masala |
| 2 | Bits | Turmeric/Haldi | Grind Masala |
| 3 | Bits | Ginger | Add to masala and grind |
| 3 | Pods (whole) | Garlic | Add to masala and grind |
| 2 | Tablespoon | Mustard Seed | Add to masala and grind |
| 0.5 | Bottle | Sweet Oil | heat |
| 1 | Bundles | Curry Leaves | add |
| 450 | Grammes | Sugar | add |
| 20 | Medium | Chillies Green | Medium size |
| 1 | Salt-Spoon | Salt | |
Method
Cut limes, put salt and keep overnight.

Masala

Next day, grind jeera, turmeric/Haldi and roasted methi, in a little vinegar. Then add mustard seeds and grind a little, and lastly, grind garlic and ginger . When done, remove and wash the mixer with diluted vinegar.

Preparation:

Heat the sweet oil in a vessel, large enough to hold the pickle. When hot, add curry leaves and fry till they change colour and then add the masala and fry it.
Let it cook for a little while, then add green chillies cut into slices. Add sugar, vinegar, with vinegar water used for washing the mixer, limes etc. Check the taste, and adjust it to yours.

Boil for half an hour on slow fire.