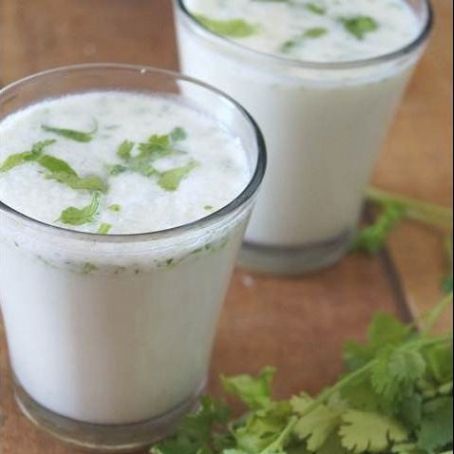 Ingredients
| Quantity: | Measure: | Ingredients: | Description: |
| --- | --- | --- | --- |
| 2 | Teacup | Curds | fresh plain |
| 1 | Medium | Chillies Green | finely chopped |
| 1 | Teaspoon | Ginger | grated |
| 1/4 | Teaspoon | Jeera Powder | |
| 1 | Medium | Onion | white, finely chopped |
| 1 | Stalks | Curry Leaves | finely chopped |
| 1 | Teaspoon | Coriander Leaves (Kothmeer) | finely chopped |
| 6 | Teacup | Water | chilled |
| | Little | Salt | to taste |
Method
Beat curds with hand whipper till smooth.
Add water, churn well till mixed.
Place ginger in a muslin cloth, hold it like a pouch.
Rub into buttermilk to allow ginger juice to blend into it.
Add salt. Break chilli into two halves.
Add all the ingredients in the buttermilk
Add coriander leaves, stir to mix everything.
Pour into a large ceramic, glass or earthen pot or jug.
Chill for one or two hours till required.
Serve in tall chilled glass or with icecubes after a summer lunch.
Or serve in deep bowls, for rice to be added, and eaten as a cool rice dish.