Rejoice (Exultet)
MP3 Listen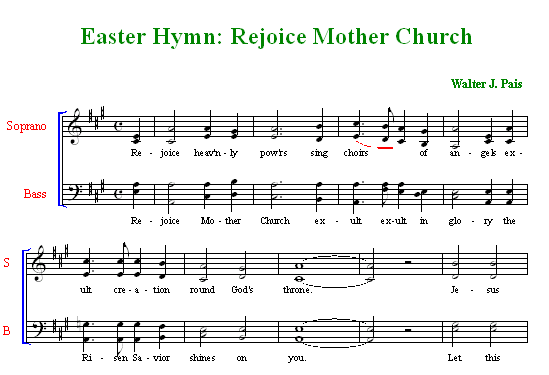 Rejoice heavenly powers, sing choirs of angels exult creation round God's throne,
Jesus Christ our King is risen, sound the trumpets of salvation.

Rejoice O earth, in shining splendor, radiant in brightness of your King,
Christ has conquered glory fills you darkness has gone for ever.

Rejoice Mother Church, exult, exult in glory, the risen Savior shines on you.
Let this place resound with joy, echoing the song that God's people sing.
In case you wish to download the score,
you have to get a Finale notation software free from their website

http://www.finalemusic.com/notepad
Download the music Score by clicking on the Title and the file will open in your downloaded software.
To download the MIDI file you heard