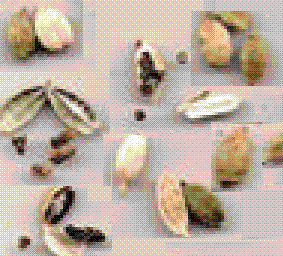 Ilaichi.Aromatic pods containing a number of small seeds. It is one of the world's most expensive spice after saffron. In India it an important ingredient in Garam Masala. Brown cardamom also called as badi ilaichi in India are used for flavoring curries and rice dishes while Green cardamoms are used for flavoring sweets and some festive rice dishes like biryanis and pulaos.

The name cardamom (sometimes written cardamon) is used for species within two genera of the ginger family Zingiberaceae, namely Elettaria and Amomum.

* Elettaria (commonly called cardamom, green cardamom, or true cardamom) is distributed from India to Malaysia.
* Amomum (commonly known as black cardamom, brown cardamom, Kravan, Java cardamom, Bengal cardamom, Siamese cardamom, white or red cardamom) is distributed mainly in Asia and Australia.

Cardamom has a strong, unique taste, with an intensely aromatic fragrance. It is a common ingredient in Indian cooking, and is often used in baking in Scandinavia [citation needed]. One of the most expensive spices by weight, little is needed to impart the flavour. Cardamom is best stored in pod form, because once the seeds are exposed or ground, they quickly lose their flavour. However, high-quality ground cardamom is often more readily (and cheaply) available, and is an acceptable substitute. For recipes requiring whole cardamom pods, a generally accepted equivalent is 10 pods equals 1½ teaspoons of ground cardamom.