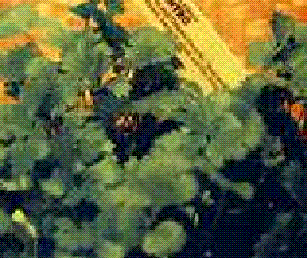 The leaves are variously referred to as coriander leaves, cilantro (in the United States, from the Spanish name for the plant), dhania (in the Indian subcontinent, and increasingly, in Britain), Chinese parsley or Mexican parsley. The leaves have a very different taste from the seeds, similar to parsley but "juicier" and with citrus-like overtones. Some people instead perceive an unpleasant "soapy" taste and/or a rank smell. This perception is believed to be a result of an enzyme that changes the way they taste cilantro, a genetic trait, but has yet to be fully researched.
The leaves have a fresh and slightly bitter taste. They are added to salads, cooked dishes and also in chutneys.
The fresh coriander herb is best stored in the refrigerator in airtight containers, after chopping off the roots. The leaves do not keep well and should be eaten quickly, as they lose their aroma when dried or frozen.
MEXICAN RECIPES: CILANTRO
Although not native to Latin American cuisine, cilantro now plays a quintessential role, adding its distinctive flavor to many dishes such as ceviche, the light and refreshing acid cooked fish dish, and many sauces and stews. One delicious example is pumpkin seed sauce. Simple, but rich and zesty, it was traditionally served over fish or wild game but is now most often served over chicken. Most dishes, even if they don't list cilantro as one of the ingredients will call for it as a garnish to add that final touch of piquancy.
Chinese, Thai, and Indonesian cuisines are well known for their use of both cilantro and coriander. Chopped, the leaves, as well as the more pungent roots, add zest to most Thai curries, and the ground seeds (called coriander) also gives depth to the flavors. India curry powders owe a lot of their aromatic, citrus quality to ground coriander. The Chinese, quite accurately, call cilantro "fragrant greens," adding it to stir fries and sauces to enliven them and add a fresh, pungent taste. The whole plant, roots and all, is often boiled and eaten as a vegetable.
Cilantro and coriander are fairly recent arrivals to the American kitchen. Coriander is the more familiar, used in gingerbread, cookies, yeast breads, sausages, stews, and chicken dishes. Try adding a dash of coriander to cooked beets for a zesty treat. When cooking with cilantro, add it at the very end, as overcooking will muddy the taste.
Although cilantro and coriander are most often associated with the cuisines of Mexico and Asia, the herb originated in the southern reaches of the Mediterranean. Coriander has been found in Egyptian tombs dating back 3000 years. It is even mentioned in the Bible in Exodus 16:31, where manna is described as "small round and white like coriander seed." The ancient Hebrews originally used cilantro root as the bitter herb in the symbolic Passover meal.
Thanks to the Romans and their conquests, cilantro's use and legend spread to Europe and Asia, where it appeared in recipes for potions used as aphrodisiacs in China during the Han dynasty (207 BC-200 AD). The Romans themselves used coriander with cumin and vinegar as a preservative which they rubbed into meat.
In literature, coriander is mentioned as an aphrodisiac in The Tales of the Arabian Nights. And those famous sugarplums which fill children's dreams at Christmas time were originally sugar coated coriander, a treat that offered a sweet start and then a spicy burst of flavor. Later the recipe included small bits of fruit and became the confection we know today.
Cilantro (Coriandrum sativum) is a relatively easy to grow annual, requiring partial shade to full sun, moderately rich soil, and good drainage. Because it attracts bees, it is a welcome addition to any garden. It grows quickly and reseeds itself easily, producing delicate white to lavender flowers in an umbrella-like display. Keep the plant pinched back to restrain it from going to seed too quickly. The tender, young leaves are the tastiest. I find it helpful to plant new starts every few week to keep an ongoing supply available all summer.
To harvest the seeds, wait until they have turned from green to brown, then dry them and store in airtight jars. To release the best flavor, crush the seeds in a mortar just as you are ready to use them. A member of the Umbelliferae family, which includes carrots and parsley, cilantro is one of the more fragile herbs, with its delicate, lacy foliage reminiscent of flat leaf parsley. The leaves do not dry well and should be used fresh. To store cilantro purchased at a store, cut off the stem ends and place the bunch in a glass of water and keep it refrigerated until you use them. Rinse the leaves just before use.
Medically, coriander is not one of the more potent herbs. Mostly used to settle the stomach, its warm, fragrant taste does make it preferable to some of the more pungent, powerful herbs like savory. In fact, coriander is often used commercially as an ingredient to make medications more palatable. It is also used as a flavoring in gin, pickles and sausages, as well as a component of makeup and perfumes.
Despite all the bad press, cilantro and coriander are still an integral part of many cuisines throughout the world, and gaining popularity all the time. So, if you or a friend are still not cilantro lovers, give it another try. A whole world of taste awaits!
Leaves http://en.wikipedia.org/wiki/Coriander
Coriander foliage
The fresh leaves are an essential ingredient in many Vietnamese foods, Asian chutneys and Mexican salsas and guacamole. Chopped coriander leaves are also used as a garnish on cooked dishes such as dal and many curries. As heat diminishes their flavour quickly, coriander leaves are often used raw or added to the dish right before serving. (Though in some Indian and Central Asian recipes, coriander leaves are used in huge amounts and cooked till they dissolve into sauce and their flavour mellows.[1])
In Peruvian cuisine, the leaves are used in a great number of traditional recipes, and are known as "culantro." The seeds have also recently been incorporated into newer recipes.
Coriander leaves were formerly common in European cuisine but nearly disappeared before the modern period. Today Europeans usually eat coriander leaves only in dishes that originated in foreign cuisines, except in Portugal, where it is still an essential ingredient in many traditional dishes.