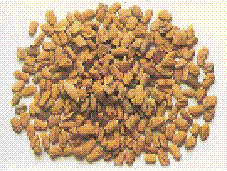 Fenugreek seeds are known as methi dana in India, the seeds are used whole or ground and have a distinct aroma and a bitter taste. Whole seeds are used for seasoning vegetables while powder is an essential ingredient of pickles. For best results, lightly roast the seeds until they barely change color before grinding or using them. On overroasting, they develop bitter flavor and aroma.
The cuboid yellow to amber coloured fenugreek seed, commonly called maithray, is frequently used in the preparation of pickles, curry powders, and pastes, and is often encountered in the cuisine of the Indian subcontinent. The seeds are used in seasoning many dishes or in powdered form to mix with rice, since health benefits of thus added seeds (or leaves) to diet in moderate quantities are considerable.
Methi Baji :The young leaves and sprouts of fenugreek are eaten as greens, and the fresh or dried leaves are used to flavour other dishes.
Katuri or Kasoori, Methi: Dried Fenugreek leaves

The dried leaves (called kasturi methi) have a bitter taste and a strong characteristic smell.
Hair Conditioner

In India, fenugreek seeds are mixed with yogurt and used as a conditioner for hair.
The name "fenugreek" or foenum-graecum is from Latin for "Greek hay".