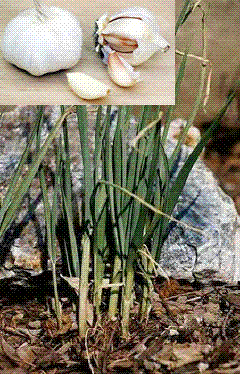 Lehsoon. Cultivated since prehistoric times, this bulb of onion family has a pungent flavor that goes well with ginger. Used for flavoring curries and pulaos.

Garlic has a powerful pungent or "hot" flavor when raw, which mellows considerably when it is cooked. Raw or cooked, garlic is noted for its strong characteristic odor.[2]
In culinary preparation, it is necessary to remove the parchment-like skin from individual cloves before chopping. Lightly crushing the cloves with the ball of the hand or flat of a knife makes this job much easier. A common error made by novice cooks is to misinterpret the word "clove" as meaning the entire garlic head (naturally occurring cluster of cloves, depending on the species) rather than one of its segments, thereby wildly exaggerating the amount of garlic in a recipe. Aside from the bulbs, the shoots are often pickled in Russia and states of the Caucasus and eaten as an appetizer.
What is Garlic?
Cloves
Garlic, Latin name Allium sativum, belongs to the onion family Alliaceae including shallots, and leek. Garlic has been used throughout recorded history for both medicinal and culinary purposes. The garlic bulb is divided into sections called cloves.
Elephant garlic or Russian garlic is a variant of the species leek and not considered a true garlic. It has a tall, solid, flowering stalk and broad, flat leaves much like those of the leek, but forms a bulb consisting of very large, garlic like cloves.
Is Garlic Good for You?
Garlic is one of the most valuable and versatile foods on the planet. Garlic belongs to the Allium family of vegetables which also includes onions, chives, shallots and leeks.
Today garlic is a widely recognized health enhancing supplement. Garlic promotes the well-being of the heart and immune systems with antioxidant properties and helps maintain healthy blood circulation. One of garlic