Aghe Nari (Hanv Saiba Poltodi Vetan)
(See below, the flowers of Goa, mentioned in this song, )
Aghe Nari thujiya nakanthe nothi, payasori - 2 Hathanth ghalun kankunna, payanthe paizona - 2 Soi, soi, soi, soyare, soyare,amhi dekni nachonyia. - 2
Hanv Saiba poltodi ventan Dhamolia lagnake vetan, Makha saiba vate dakhoi, - 2 Maka saiba vate kollona - 2
Dhamolia matevanthe kolvonthanso khelvo - 2 Agha mujia Taria Mama, - 2 Mhaka voron pavoi Sirodia, ai Sirodia. - 2
Ghe, ghe ghe ghe ghe, ghere saibha - Maka Naka Go, Maka Na ka go - 2 Hin mujia nakanthnthlin nothin, ghere saiba, Maka naka go, - 2 Hia mujia paianthin paizona, ghere saiba Maka Naka go - 2 Hia mujia phulancho pormole, ghere saiba Maka Naka go - 2
Voilia voilia dhongrare, ubtahe khongre Ubthate khongre zaliayre, thalvere mhogre - 2
Ghe, ghe ghe ghe ghe ghere saiba Maka Naka go - 2
Shivthin, mogrin, abolim, Mathenbore maltholin, Mujia novriake, vochun go, Maltholim.
Words contributed by Mr. A. Britto.
I have recollected the music, which I heard in my teens, and it may be a little different from the original, for which I offer my apologies. If you have an original mp3 file, please send it to me, so that I can correct the music.
Walter Pais This e-mail address is being protected from spambots. You need JavaScript enabled to view it '; document.write( '
' ); document.write( addy_text61531 ); document.write( '<\/a>' ); //--> This e-mail address is being protected from spambots. You need JavaScript enabled to view it
Download the music -
click here
Flowers of Goa and west coast of India:
Jasmine, Mogra and Abolim (crossandra)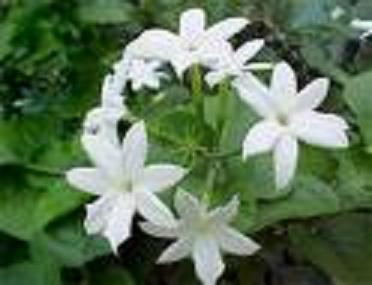 Jasmine flower
Mogra Flower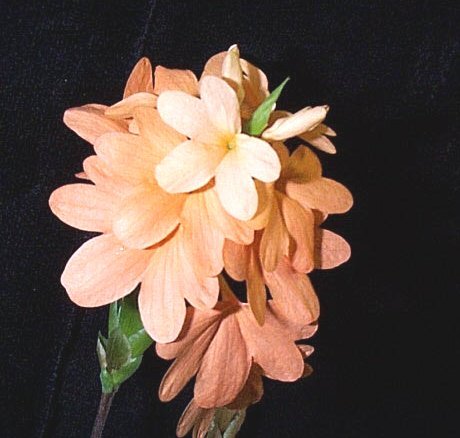 Abolim (Crossandra)