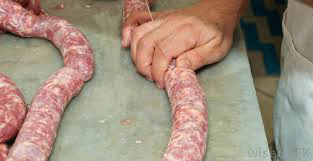 Ingredients
| Quantity: | Measure: | Ingredients: | Description: |
| --- | --- | --- | --- |
| 1 | Nos | Tripe, Sheep's Intestines, "Boti" | For cooking |
| 15 | Medium | Chillies Red Dry | For grinding |
| 1 | Large | Onion | For grinding |
| 2 - 1/2 | Teaspoon | Coriander/Dhania | For grinding |
| 1 | Teaspoon | Jeera/Cumin Seeds | For grinding |
| 1 | Teaspoon | Pepper Corns | For grinding |
| 1/2 | Teaspoon | Turmeric Powder | For grinding |
| 1/2 | Nos | Coconut | For grinding |
| 1 | Teacup | Dhal, Tur | For cooking |
| 2 | Tablespoon | Ghee | For seasoning |
| 1 | Nos | Onion | For seasoning |
| | As Required | Salt | For taste |
| | As Required | Tamarind | Prepare Tamarind water |
Method
Slit the intestines of the sheep, and with the back of a knife, scrape out all the dirt. Wash and clean well, and cut into small pieces. Slit open the goat's stomach and empty it. Apply chunam (lime powder) all over and keep aside for five minutes, or dip it in boiling water for two minutes. With the back of the knife, scrape the stomach well and wash it till it is white. Cut it into small pieces and wash it well again together with the intestine pieces.

Scrape coconut, and grind with roasted masala. Wash Tur dhal - Cook the trip for three hours. Add thur dhal and cook till dhal is soft. Add tamarind water and salt to taste.

Prepare seasoning by heating the ghee and frying the sliced onion. Add the cooked tripe and dhal, ground masala, and water as needed to the tripe.