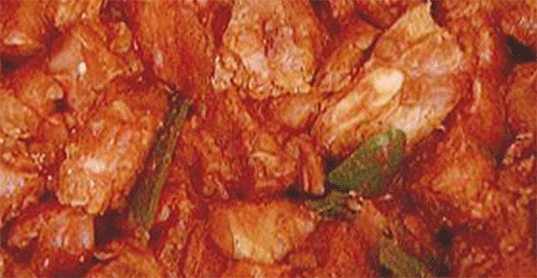 Ingredients
| Quantity: | Measure: | Ingredients: | Description: |
| --- | --- | --- | --- |
| 1 | Teacup | Vinegar | To grind masala and for taste |
| 8 | Large | Chillies Kashmir | Grind for masala |
| 1 | Pods (whole) | Garlic | Grind for masala |
| 1 | Inch | Ginger | Grind for masala |
| 2 | Teaspoon | Jeera/Cumin Seeds | Grind for masala |
| 1 | Piece | Turmeric/Haldi | Grind for masala |
| 8 | Grams | Pepper Corns | Grind for masala |
| 2 | Sticks | Cinnamon | Grind for masala |
| 4 | Grams | Cloves (spice) | Grind for masala |
| 4 | Grams | Cardamoms | Grind for masala |
| 1 and 1/2 | Kilogram | Pork | Wash and cut. |
| 100 | Grams | Ghee | For frying onions,meat,masala |
| 1 | Kilogram | Onions | Slice long and fine. Fry. |
| 1 | Kilogram | Tomatoes | ripe - chopped |
| 1 | Kilogram | Green Peas | To be shelled, washed. Add |
| 1 | Kilogram | Potatoes | Very small and round |
| 2 | Teaspoon | Sugar, White | Add for taste |
| | As Required | Salt | Add for taste |
Method
1. Prepare the ground masala in vinegar.
2. Wash and cut the meat. into serving pieces.
3. Marinade the meat in ground masala and salt, and keep aside for 2 hours.
4. Fry the sliced onions in ghee. Add the marinated pork, and fry. Add the chopped tomatoes and fry.
5. Close with a lid which can retain water and fill water in the lid and cook When the water in the lid evaporates, open and check the pork. Add a little water, if it is too dry. Close and add more water on the lid and cook. Do not add too much water and make the meat watery..
6. When the pork is half cooked, add the shelled and washed green peas and the pared potatoes and cut them in fours, if they are large, and add to the peas. If the potatoes are small, keep them whole. Continue till the peas and potatoes are cooked.
7. When the meat and vegetables are fully cooked, add sugar, and vinegar and salt to taste.