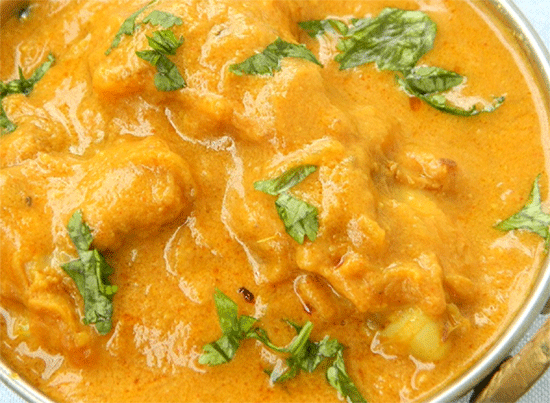 Ingredients
| Quantity | Measure | Ingredients | Description |
| --- | --- | --- | --- |
| 3 | Tablespoon | Cooking Oil | For Frying |
| 4 | Nos. | Bay Leaves (Tejpatta) (Dry Cinnamon Leaf) | For Frying |
| 2 | Large | Onions | For Frying - sliced fine |
| 1/2 | Tablespoon | Turmeric Paste | For Frying - Pastes |
| 3 | Teaspoon | Chilly Paste, Red | For Frying - Pastes |
| 1 | Tablespoon | Ginger Paste | For Frying - Pastes |
| 750 | Grams | Chicken | Washed, cut in convenient pieces |
| 1-2 | Nos. | Coconut scraped (fresh) | To make 1 cup thick and 2 cups thin milk) |
| 6 - 8 | Medium | Chillies Green | Sliced |
| | As Required | Salt | to taste |
| | As Required | Sugar, Table | to taste |
Method
Heat the oil in a deep pan to hold all ingredients.
Add bay leaves and fry for 2 minutes.

Add sliced onions and fry lightly.

Add the masala pastes and stir fry for five minutes.

Gently lower the pieces of chicken into the pan and carefully stir and cook until the chicken absorbes the flavors of the masalas..

Add two cups thin coconut milk,which will provide the gravy. Add the green chillies, salt and sugar, if preferred, and simmer over medium brisk flame until the chicken is done.

Add thick coconut milk which will make the curry thick and continue cooking over brisk flame for another 7-10 minutes.

And then remove from fire.

You could use this recipe to cook other meats as well.